Mom's Authentic Puerto Rican Rice and Beans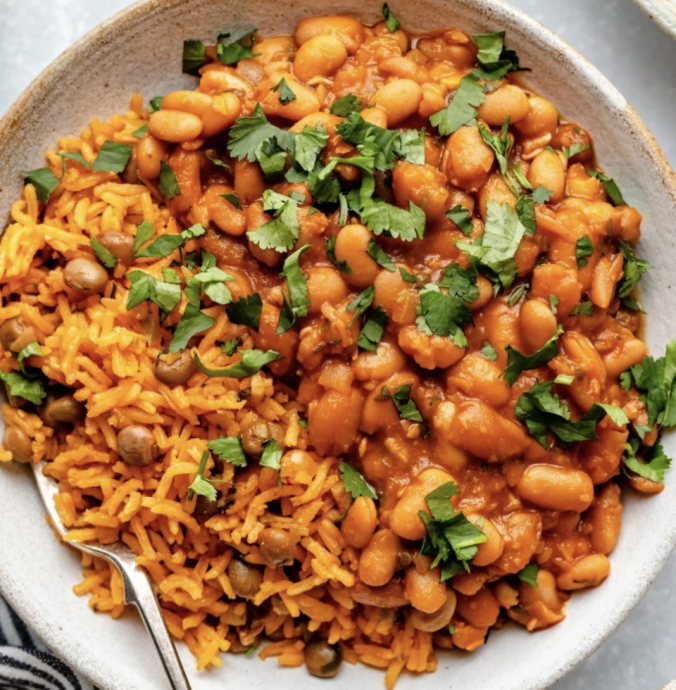 Mom's authentic Puerto Rican rice and beans with savory homemade sofrito and sazon! You'll love this incredibly flavorful, comforting homemade meal that will fill your home with unbelievably delicious smells. The perfect recipe to serve a crowd or just savor leftovers for a few days!
I can't believe it's been five (5!) years since I first published one of my favorite comfort foods in the entire world: my mom's Puerto Rican Rice and Beans.
As many of you know, my mom is full Puerto Rican, as are my grandparents. My childhood dinners were often full of Hispanic cuisine — often empanadas, rice and beans, tostones, pozole and ALL THE GOOD THINGS IN LIFE. Over the past few years, I've connected with recipes that are from my heritage and started cooking from the soul again. Personally, it feels incredibly rewarding when Puerto Rican soul food fills my home with its intoxicating, aromatic spices. As an ode to my heritage and strong connection with food, Tony and I even had a custom Hispanic-themed menu at our wedding (with many authentic Puerto Rican flavors) and it was INCREDIBLE.
And even if you aren't Puerto Rican, why not try something new?! We could all use a good dose of global-inspired creativity and cooking in our lives. These rice and beans are the perfect way to start.
Ingredients:
For the beans:
1 pound dry pinto or pink beans, sorted and damaged beans removed (about 2 cups dried beans), soaked overnight for 6-8 hours, no longer
6-8 cups water or vegetarian broth
1-2 bay leaves
For the sofrito (for the beans):
2 teaspoons olive oil
½ cup finely diced yellow onion
½ cup finely diced green bell pepper
¼ cup finely diced cilantro
3 cloves garlic, minced
1 cup no salt added tomato sauce (from one 15 oz can -- reserve extra sauce for rice)
3 teaspoons (2 packets) Sazon Culantro ey Achiote* (see note in recipe for how to make your own)
For the rice:
2 teaspoons olive oil
1/3 cup finely diced yellow onion
1/3 cup finely diced green bell pepper
¼ cup finely diced cilantro
2 cloves garlic, minced
½ cup no salt added tomato sauce
3 teaspoons (2 packets) Sazon Culantro ey Achiote* (see note in recipe for how to make your own)
⅛ teaspoon adobo (or just a pinch)
1 (15 oz) can Goya Green Pigeon peas** (see note in recipe for a sub)
3 cups water
2 cups basmati white rice