Pomegranate & Pear Green Salad with Ginger Dressing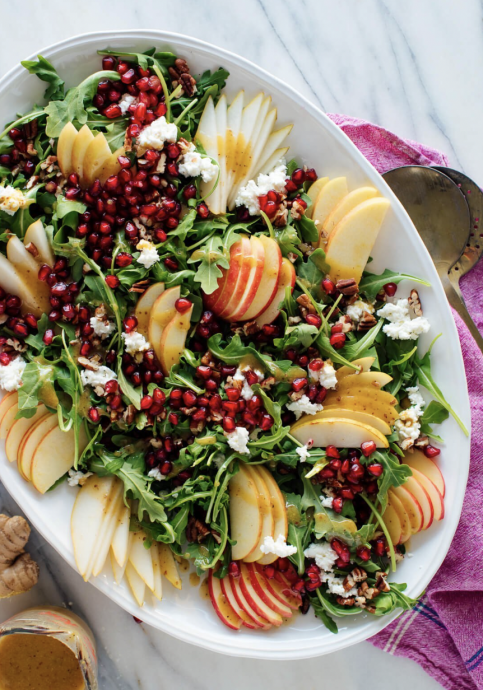 I can't take my eyes off this salad! The concept came to me as I was improvising a big green salad for Friendsgiving this year. Salads are often overlooked at the holidays, so I set out to make a festive red-and-green showstopper.
I knew I wanted to incorporate ruby-red pomegranate arils and fresh pear, since they're both so delicious this time of year. I added Honeycrisp apple, goat cheese and pecans for good measure.
Ingredients:
Salad
½ cup raw pecans (halves or pieces)
5 ounces baby arugula
2 ounces (about ½ cup) goat cheese or feta, crumbled
1 large ripe Bartlett pear, thinly sliced
1 Honeycrisp or Gala apple, thinly sliced
Arils from 1 pomegranate
Ginger dressing
¼ cup extra-virgin olive oil
1 tablespoon apple cider vinegar, to taste
1 tablespoon Dijon mustard
1 tablespoon maple syrup or honey
1 teaspoon finely grated fresh ginger
¼ teaspoon fine sea salt
About 10 twists of freshly ground black pepper