Healthy Apple Muffins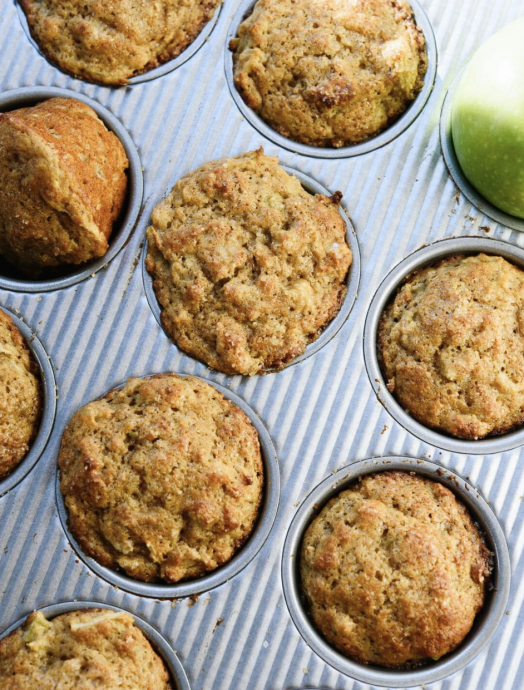 It's apple muffin time! You all really seem to love my banana muffins, pumpkin muffins and carrot muffins and the blueberry muffins in my cookbook. Today, apple muffins are joining the club.
Like the others in the bunch, these muffins are made with 100 percent whole wheat flour and naturally sweetened with maple syrup or honey. They are nice and fluffy, with just enough sweetness to be irresistible.
Granted, I already have an apple oatmeal muffin recipe on the blog from four years ago, but I have significantly upped my muffin game since then. These muffins are the better of the two, by a long shot.
I based these healthy apple muffins off my carrot muffins, replacing grated carrots with fresh apple, and replacing half of the Greek yogurt with applesauce.
These muffins contain apple, three ways: freshly grated and chopped apple for the perfect texture, and applesauce for infused apple flavor. They're the best apple muffins I've ever had.
Ingredients:
1 ¾ cups white whole wheat flour or regular whole wheat flour
1 ½ teaspoons baking powder
1 teaspoon ground cinnamon
½ teaspoon baking soda
½ teaspoon salt
1 cup grated apple
1 cup apple diced into ¼" cubes
⅓ cup melted coconut oil or extra-virgin olive oil
½ cup maple syrup or honey*
2 eggs, preferably at room temperature
½ cup plain Greek yogurt (I used full-fat but any variety should do)
½ cup applesauce
1 teaspoon vanilla extract
1 tablespoon turbinado sugar (also called raw sugar), for sprinkling on top