French Red Potato Salad Recipe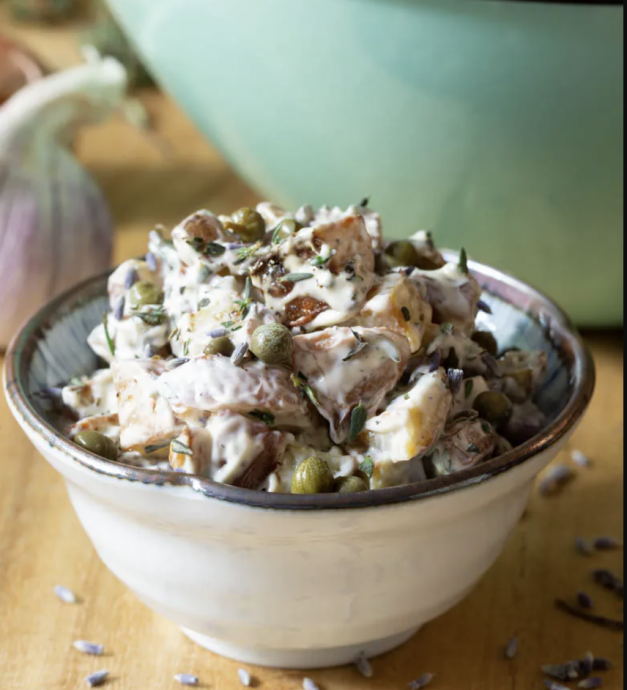 Provincial-Style French Red Potato Salad Recipe loaded with roasted new potatoes, fresh herbs, garlic, and capers. This potato salad recipe is easy to make and just as easy to love!
We often draw conclusions about certain matters, then fossilize them in our minds. Even with a focused effort on being open to new ideas, sometimes our brains simply hit the "automatic reset button" and we are back to square one.
This sums up my feelings about potato salad. I've eaten a myriad of potato salads over the years, and always felt that nothing could compare to my mom's classic mustard version. Her potato salad has a bright yellow hue; the result of a rather large dollop of yellow mustard. Mom also adds dill, hard-boiled eggs, sweet relish, celery, mayo, and paprika.
Ingredients:
2 pounds new potatoes, chopped into bite-size pieces
2 cloves garlic, minced
1 shallot, chopped
2 tablespoons capers, reserve brine
2 teaspoons fresh chopped rosemary
2 teaspoons fresh chopped thyme
2 teaspoons culinary lavender buds, or fresh chopped lavender buds and leaves
4 teaspoons Dijon mustard
1/2 cup mayonnaise
Salt and pepper
1 tablespoon olive oil