Blueberry Lemon Yogurt Cake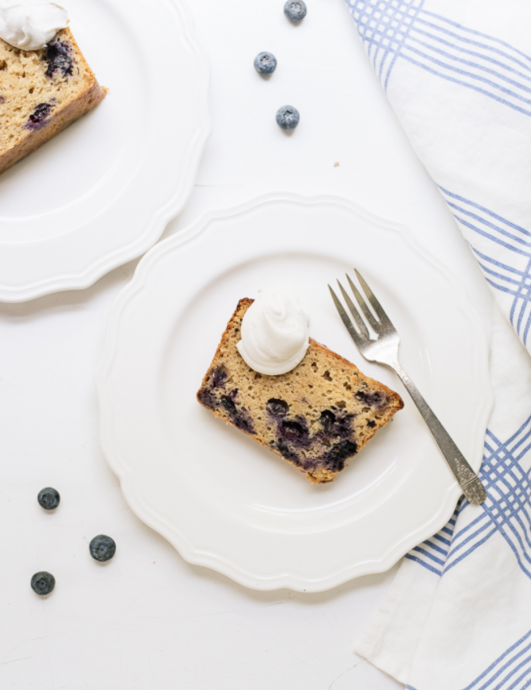 This very lemony blueberry cake is the perfect sweet treat to bring to your Birthday celebrations. It's basically a lightened-up pound cake. Instead of being made with the traditional one-to-one ratio of butter, all-purpose flour and sugar (one pound each!), it's made with yogurt, olive oil, whole wheat flour and a reasonable amount of sugar.
The cake is really easy to mix up by hand. Rubbing the lemon zest into the sugar brings out tons of lemon flavor, and a simple lemon-honey glaze added while the cake it still warm adds an extra burst of lemon flavor that seeps all the way down to the blueberries at the bottom. Blueberries seemed like a festive choice, but you could definitely substitute raspberries or chopped strawberries. Or hey, try a mix of the three!
Ingredients:
1 ½ cups white whole wheat flour or regular whole wheat flour, plus more for dusting
2 teaspoons baking powder
½ teaspoon fine grain sea salt
2 medium lemons, preferably organic, to be zested and juiced
1 cup sugar (I used organic cane sugar)
¾ cup plain whole-milk (full fat) yogurt or Greek yogurt
3 extra-large eggs
½ teaspoon pure vanilla extract
½ cup extra-virgin olive oil
1 cup fresh or frozen blueberries (if frozen, do not defrost!)
2 teaspoons honey
Optional accompaniments: coconut whipped cream or regular whipped cream or vanilla ice cream