Slow Cooker Butternut Squash Chili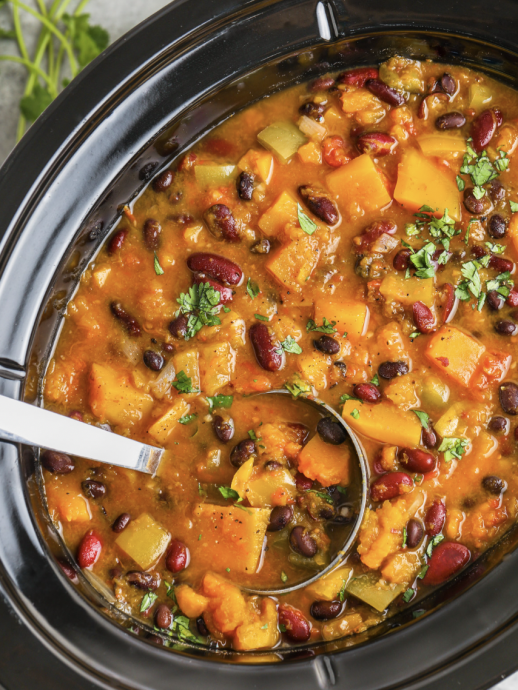 This recipe is the perfect combination of squash, beans, peppers, and tomatoes all slow-cooked in a savory broth. This healthy chili is guaranteed to satisfy!
A cold weather favorite, this is a delicious veggie chili is comfort in a bowl just like our traditional homemade chili.
Butternut squash has great texture, a sweet taste, and is pretty versatile. You can eat it roasted in salads (with amazing warm apple cider vinaigrette), pasta, of course butternut squash soup.
This chili is packed with healthy, fiber-filled beans and veggies and makes for a great work or school day lunch as well!
Easy to adjust for different diets! For a paleo version leave out the beans and add some chicken or beef instead. A vegetarian version is super easy, just use vegetable broth instead of chicken!
Hearty Crockpot soups and chilis are quick and easy to make! Serve with toppings and a loaf of homemade French bread or some buttermilk biscuits and let everyone help themselves!
A great way to use up small bits of protein like beef, chicken, or turkey to stretch this dish even further!
Ingredients:
for the chili
1 butternut squash approx. 2 pounds, peeled, cut into half inch pieces
1 ½ cups chicken broth or vegetable broth
15 ounces black beans 1 can drained and rinsed
15 ounces kidney or great northern beans 1 can drained and rinsed
14 ounces petite diced tomatoes, with juices 1 can
2 bell peppers, any color diced
1 onion diced
5 cloves garlic minced
1 tablespoon chili powder
2 teaspoons ground cumin
1 teaspoon ground ginger
1 teaspoon salt and pepper each
for the toppings
cilantro
sour cream
chips
cheese