Air Fryer Crab Rangoon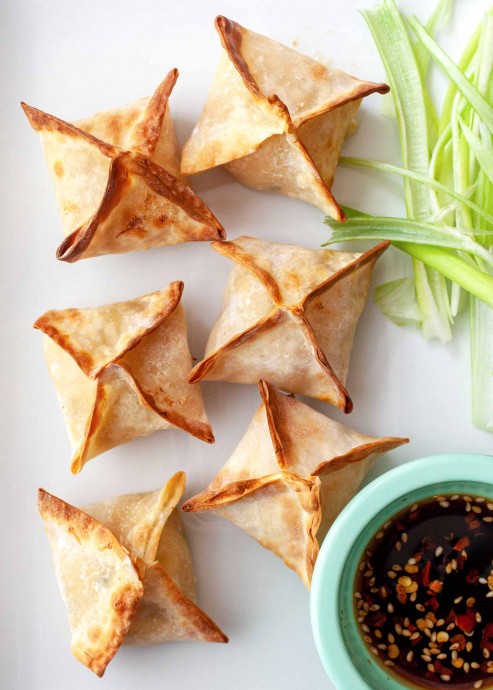 These Air Fryer Crab Rangoon—wontons made with cream cheese and crab—are super crispy, delicious, and easy to make at home. You may never order takeout wontons again! Is it even possible to order Chinese takeout and not get a batch of cream cheese wontons? Wontons are a type of Chinese dumpling made with a thin wonton wrapper and a filling. The wrappers come in two main shapes: circles or squares. I like a mix of cream cheese, crab, scallion, and a dash of soy sauce for my Crab Rangoon. Classic Crab Rangoon also add a dash of Worcestershire sauce, but I prefer them without. If you love Worcestershire, add a few dashes to taste before assembling the wontons. You can also make these without the crab for plain cream cheese wontons (equally delicious). You'll just get fewer wontons out of the recipe because of the decreased volume of filling.
The air fryer for this recipe is perfect. The wontons get very crispy on top and even a bit crispy on the bottom. The air fryer makes cleanup super easy, too. Shape the wontons, fry them, eat them, done! Just remember to spray the air fryer basket with nonstick spray to avoid any sticking issues. A great wonton sauce for these wontons is a mix of soy sauce, sesame oil, rice vinegar, sesame seeds, and red pepper flakes. It's as easy as a dipping sauce gets but has serious flavor!
Ingredients:
30 square wonton wrappers
8 ounces cream cheese, at room temperature
4 ounces lump crab meat or imitation crab
2 tablespoons minced scallions
2 teaspoons soy sauce
Nonstick spray for air fryer
For the dipping sauce:
1/4 cup soy sauce
1 tablespoon sesame oil
1 tablespoon rice wine vinegar
Sesame seeds, for garnish
Red pepper flakes, for garnish