Peppermint Sandwich Cookies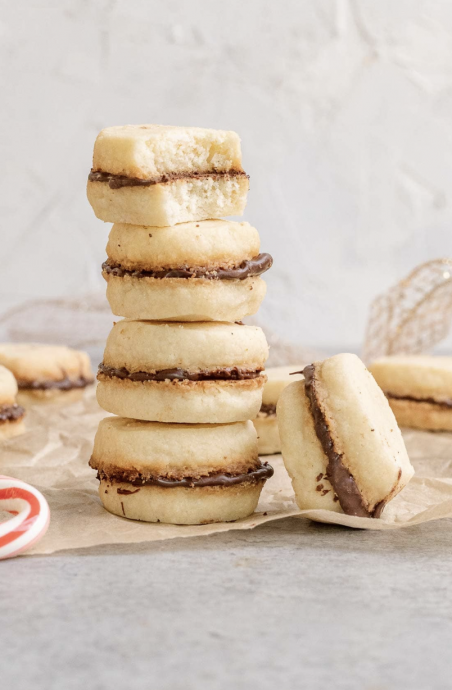 Peppermint Sandwich Cookies are the perfect holiday cookie. Crispy, buttery vanilla cookies with rich chocolate and peppermint filling.
This festive Cookie Recipe is perfect for any holiday party or cookie exchange. For more classic holiday cookies try Classic Gingerbread Cookies, Chocolate Crinkle Cookies, and Sugar Cookies.
The combination of vanilla, chocolate, and peppermint flavors make these cookies wonderfully festive. The sandwich-style sets them apart from most cookies, making them look fancy but actually they are super easy! All you need is a little extra time to prepare and chill the dough, but it can be done up to 2 days ahead to make these cookies a snap!
Nothing will put you in the mood for Christmas like some happy holiday baking! These delicious cookies have a simple buttery outside with the perfect wintry peppermint filling that's sure to make them holiday favorites. They're the perfect treat to enjoy with a mug of Hot Chocolate on a cozy December day.
After you've combined them all into the cute sandwiches, one batch of cookies makes 24 finished cookies. They're perfect for the holidays when you might have more people than usual to feed because there's plenty to share.
Ingredients:
1 cup butter , softened
1/2 cup sugar
2 teaspoons vanilla extract
1-3/4 cups all-purpose flour
1/4 teaspoon salt
1 cup semisweet chocolate chips
1/4 teaspoon peppermint extract