No Bake Chewy Peanut Butter Granola Bars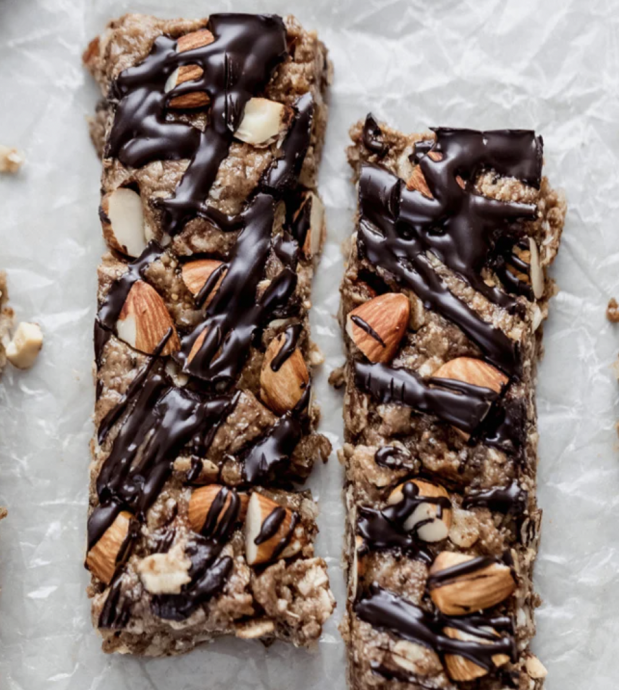 Homemade healthy peanut butter granola bars packed with protein and healthy fats for the perfect snack. These chewy peanut butter granola bars are easy to customize and delicious with a drizzle of dark chocolate. Kid-friendly, no bake, and amazing on the go!
I can't get by a day without a snack or two. If you reached into my jacket pocket, you'd surely find a GoMacro wrapper. I'm known to have a banana in my purse and a packet of peanut butter with me wherever I go. Why? Because without food, I'm HANGRY and it's bad. Throughout the years, I've learned to be prepared for when hunger strikes.
The good news is that I've got an incredible nourishing snack recipe for you: I've officially made these peanut butter granola bars multiple times since I first developed the recipe a few years ago. They're just so good!
The best part is that they're incredibly customizable. You could make a new version every week for yourself, the kiddos, friends & family and never get sick of them. Snack. Heaven.
Ingredients:
½ cup creamy natural drippy peanut butter (just peanuts & salt)
1 1/2 tablespoons virgin coconut oil
3 tablespoons honey (or use coconut palm syrup or date syrup if vegan)
1 teaspoon vanilla extract
1/2 teaspoon cinnamon
⅓ cup flaxseed meal
1 tablespoon chia seeds
½ cup old fashioned rolled oats, gluten free if desired
1/3 cup roasted almonds, roughly chopped* (or sub chopped pecans)
¼ cup unsweetened shredded coconut
For on top:
2 tablespoons roasted almonds, roughly chopped
2 tablespoons dark chocolate chips
½ teaspoon coconut oil