Favorite Broccoli Salad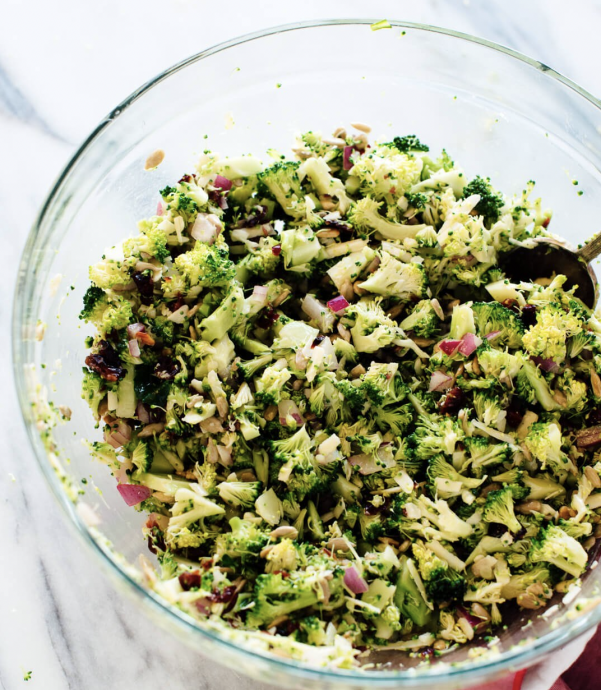 Let's hit restart with my favorite broccoli salad recipe! It will become your new favorite, too. This is the best broccoli salad I've ever had. Why? It's crisp, crunchy and fresh, which is exactly what I want broccoli salad to be. It's also seriously addictive, thanks to the sweet-and-savory combination of freshly toasted sunflower seeds, dried cranberries and cheddar cheese.
I borrowed the honey-mustard vinaigrette from my Brussels sprout slaw, and it plays up raw broccoli's best features. Who needs mayo when you have creamy and tangy honey-mustard dressing? I included the usual cheddar cheese since my assistant Mara absolutely loved it that way. The cheddar offers some creamy indulgence to the salad, which makes it a perfect transition food from rich holiday meals to healthier options.
That said, if you're craving a lighter salad, you'll also enjoy the recipe without cheese.
Ingredients:
Salad
1 pound broccoli florets (from 1 ½ pounds broccoli stalks), thinly sliced and then roughly chopped (see photos)
½ cup raw sunflower seeds or slivered almonds
½ cup finely chopped red onion
½ cup grated sharp cheddar cheese (optional)
⅓ cup dried cranberries or dried tart cherries, chopped
Honey mustard dressing
⅓ cup extra-virgin olive oil
2 tablespoons apple cider vinegar
1 tablespoon Dijon mustard
1 tablespoon honey
1 medium clove garlic, pressed or minced
¼ teaspoon fine sea salt