Classic Biscotti Cookies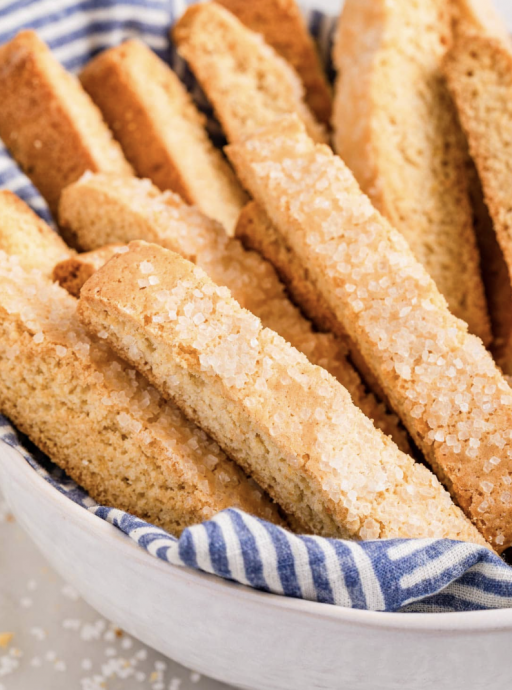 Classic Biscotti Cookies are crisp, buttery Italian treats sprinkled with sanding sugar and perfect to enjoy with your morning coffee.
This is the perfect biscotti recipe that you can enjoy for Breakfast or a sweet afternoon treat. A batch of biscotti would make a fantastic addition to your next brunch spread along with classic recipes like New York Crumb Cake, Oven Scrambled Eggs, and Chocolate Chip Cinnamon Rolls.
These crunchy Biscotti Cookies are exactly what your morning cup of coffee needs. The classic Italian treat is usually dipped in coffee because its dry texture is perfect for hot coffee.
However, kids and anyone else who doesn't drink coffee can still enjoy this perfect biscotti recipe. It tastes just as amazing with a glass of milk or Hot Chocolate. Plus, that way, you can enjoy it as a sweet treat without the coffee keeping you up.
Homemade Classic Biscotti Cookies also make perfect holiday gifts. If you bake the cookies for gifts, make sure you give them time to cool completely before you package them up. Line your gift box with plenty of decorative tissue paper before laying the finished Biscotti inside. It adds a bright, festive touch and stops the biscuits from breaking while they're in the box.
Ingredients:
1/2 cup vegetable oil
1 cup white sugar
3 large eggs
2 teaspoons vanilla extract
3 1/4 cups flour
1 tablespoon baking powder
3 tablespoons coarse sanding sugar