Apple Oatmeal Cookies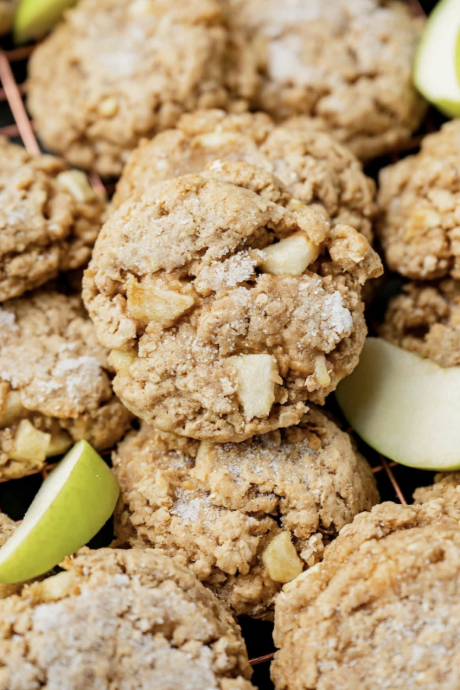 The classic oatmeal cookie gets an update with apples. Learn how to make soft & chewy apple oatmeal cookies.
When you think about fall and apple desserts, your mind most likely goes to homemade apple pie and easy apple crisp. But today I'm sharing a recipe for apple cookies, and it is going to change your fall dessert game.
The apples, oats and the butter in these cookies keep them moist. They are perfect for packing in lunches, giving as a gift or freezing for the holidays.
Ingredients:
1 large green apple peeled and finely diced
1 cup salted butter room temperature, 8 ounces
1 cup granulated sugar 200 grams
1 cup packed brown sugar 210 grams
2 large eggs
1 1/2 teaspoons vanilla extract 7 grams
2 1/2 cups all-purpose flour 325 grams
1 tablespoon cornstarch 9 grams
2 1/2 cup quick cook oats 248 grams
2 teaspoon ground cinnamon 5 grams
1 teaspoon baking powder 4 grams
1 teaspoon baking soda 6 grams
1 teaspoon salt 6 grams
1/2 teaspoon cloves 2 grams
1/4 teaspoon nutmeg