Stuffed Pepper Soup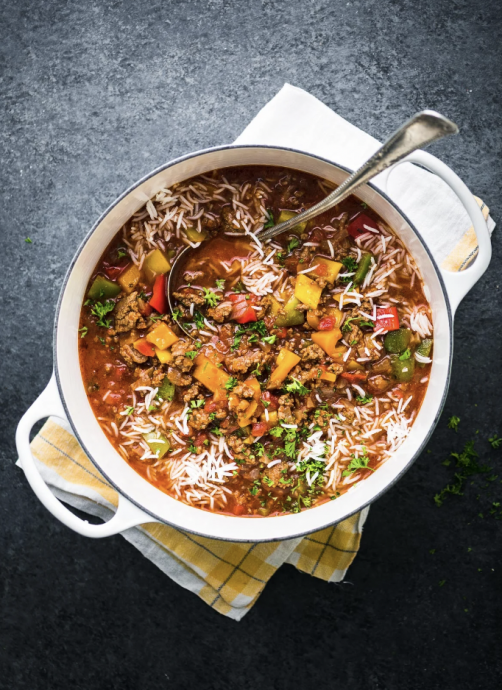 Stuffed peppers are one of my personal favorite comfort foods, and I can honestly say that I enjoy the soup even more than actual stuffed peppers. It's lighter, more piquant, and the peppers stay colorful and crunchy. I've got some tips and tricks to making this one of the best soups you've ever had.
The nice thing about this soup recipe is that it can easily accommodate so many special diets~
it's naturally gluten free, without the rice it's low carb. It's also Keto if you omit the rice and stick to lower carb green peppers. Whole 30, & Paleo if you leave out the rice and cheese
it's also low calorie without the rice and cheese. Non red meat eaters can substitute ground chicken or turkey for the ground beef. Vegetarians and vegans might try some of the good vegan 'meat' crumbles on the market, Trader Joe's makes a couple of great ones.
Ingredients:
1 1/4 lb ground beef (80-85 % lean)
olive oil
1 large yellow onion, diced
4 cloves garlic, minced
15 ounce can of beef broth
15 ounce can of petite cut diced tomatoes
17 ounces tomato sauce (I use Pomi)
1 tsp Italian herbs
1 bundle fresh sage and oregano OPTIONAL
1 tsp paprika (use hot smoked if you like...I do!)
2 tsp Sherry vinegar
salt and black pepper to taste
2 large bell peppers, seeded and diced (I like to use multi colors for a beautiful effect in the soup)
2 cups cooked long grain rice
Garnish
chopped parsley
grated Parmesan cheese