Pumpkin Black Bottom Cupcakes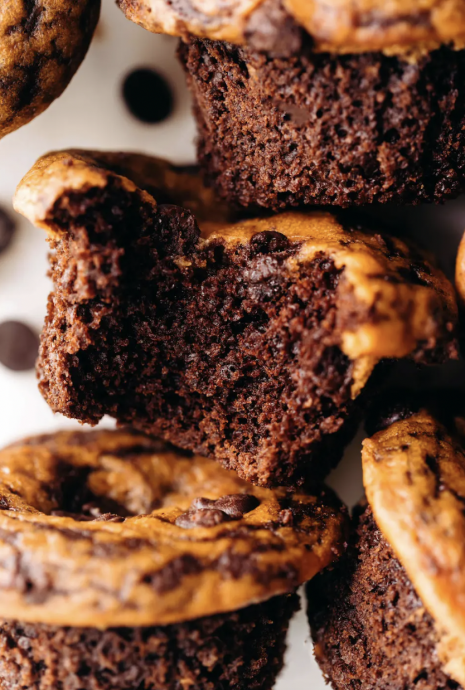 Dark chocolate cupcakes baked with swirls of pumpkin spice cheesecake and chocolate chips. Vegan and grain-free fall (or Halloween!) decadence!
Dark chocolate cupcake meets cheesecake brownie meets pumpkin spice. Black bottom cupcakes are the ultimate don't-need-frosting decadent cupcakes, and this fall spin all melds together so so well! This recipe starts with an easy, ultra chocolatey cupcake batter made with both cocoa powder and Chocolate SunButter. Next comes the pumpkin cheesecake topping, whipped together with dairy-free cream cheese, real pumpkin, and pumpkin pie spice. Scoop, swirl, sprinkle on chocolate chips, and wait for your new favorite fall treat to bake to fluffy perfection. Between the rich flavor and ultra fluffy texture, you'd never know these cupcakes are completely vegan and grain-free.
My best tip? Try one warm from the oven and enjoy all that still-melty chocolate chip gooeyness. Then! Refrigerate the rest and come back tomorrow…once they're cold the cupcake goes from fluffy to brownie-fudgy, the pumpkin layer tastes like swirls of chilled cheesecake, and the snappiness of the chilled chips give every bite a little bit of chocolatey texture contrast. It's the IDEAL way to eat them in my opinion.
Ingredients:
Vegan Grain-Free Chocolate Cupcakes
1/2 cup (160g) maple syrup
1/2 cup (70g) coconut sugar
1 1/4 cup (300g) almond milk
1/2 cup (125g) Chocolate SunButter
1 tsp vanilla extract
1 cup (128g) cassava flour
1/2 cup (50g) cocoa powder
2 tbsp (15g) coconut flour
1/2 tsp baking soda
1 tsp baking powder
1/4 tsp salt
Pumpkin cream cheese
4oz vegan cream cheese, softened to room temperature
2 tbsp coconut sugar
1/2 tsp vanilla extract
1/4 cup (60g) canned pumpkin
2 tsps pumpkin pie spice
1 tbsp arrowroot starch
1/2 cup (80g) chocolate chips