Chicken Alfredo Bake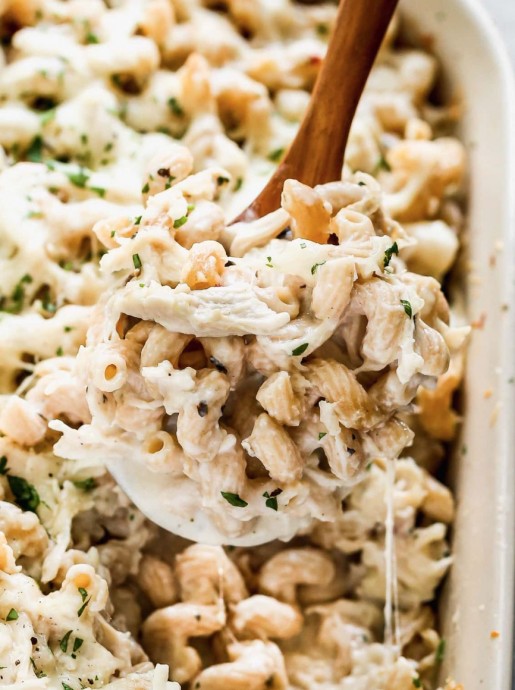 This Chicken Alfredo Bake is a cozy baked pasta casserole that combines three of the most universally beloved foods—chicken, Alfredo sauce, and cheese. Get ready for a standing ovation from the whole table!
If you've been avoiding this indulgent dish, it's time to bust out your pasta pot, grab your cheese grater, and roll up your sleeves because this is a healthy chicken Alfredo bake you can eat without guilt.
Creamy, cheesy, and rich, this baked Alfredo is loaded with tender cooked chicken and al dente pasta coated in an easy homemade healthy Alfredo sauce.
Ingredients:
1 pound whole wheat pasta such as cavatappi, ziti, penne, or fusilli
2 tablespoons unsalted butter
6 cloves garlic minced (about 2 tablespoons)
1/4 cup all-purpose flour
2 ¾ cup milk recommended: 1%, 2%, or whole
1 (14-ounce) can low sodium chicken broth or 1 ¾ cups low sodium chicken broth
1 ½ teaspoons Italian seasoning or 1/2 teaspoon dried thyme and 1 teaspoon dried basil
1 teaspoon onion powder
3/4 teaspoon kosher salt
1/2 teaspoon black pepper
1/4 teaspoon red pepper flakes
1 cup freshly grated parmesan cheese divided (MUST be freshly grated; no can!)
1/2 cup low fat plain Greek yogurt* (I used 2%)
3 1/2 cups cooked shredded chicken** (about 3 medium breasts)
1 cup shredded provolone or mozzarella cheese about 4 ounces—I recommend shredding yourself for the best melty sauce, divided
Chopped fresh parsley for serving