Sloppy Joe Tater Tot Casserole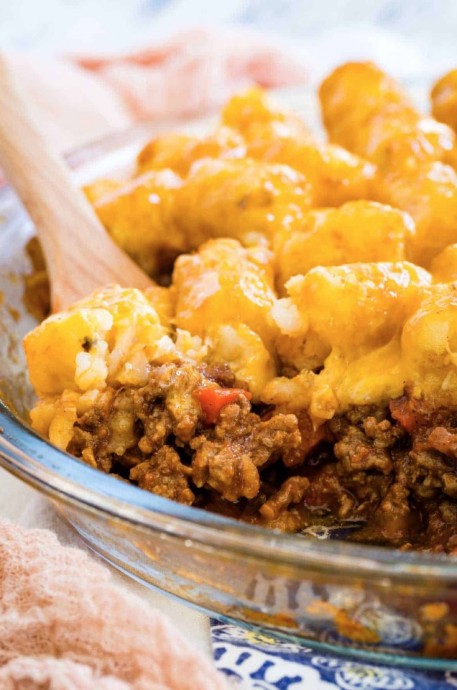 I'm mashing up two of my all-time childhood favorites: Sloppy joes, and crispy tater tots! Sloppy Joe Tater Tot Casserole is a deliciously savory, cheesy, tater-y wonder that's just hyper-loaded with flavor. A perfect weeknight family dinner and the ultimate comfort food!
This hearty sloppy joe casserole is the stuff of weeknight dinner dreams. Plus, with fall weather peeking around the corner, my kitchen is officially ramping up for casserole season.
Sure, we have our homemade Sloppy Joes served up the classic way, on gluten-free buns. Plus a scoop (or five) of tater tots on the side. But prepare yourself for the magic that is this sloppy joe tater tot casserole! It takes barely any prep and comes out of the oven all sorts of melty, crispy, cheesy, and wonderful.
If you're from the Midwest, you may already be familiar with this tater tot casserole's not-so-distant cousin: the tater tot hot dish. This recipe has all the meat, veggies, and starch, with a fun sloppy joe spin!
Ingredients:
1-1¼ lbs ground beef
half an onion chopped
half a red bell pepper chopped
1 clove garlic minced
½ tsp salt
¼ tsp black pepper
1 cup ketchup
1 tbsp molasses
1 tbsp spicy brown mustard
1 tbsp Worcestershire sauce
1 tsp chili powder
1 tsp paprika
½ tsp dry mustard powder
½ cup water
50 tater tots (or approx. half of a 32 oz. package)
1 cup shredded cheddar cheese