Spicy Crusted Tofu Cutlets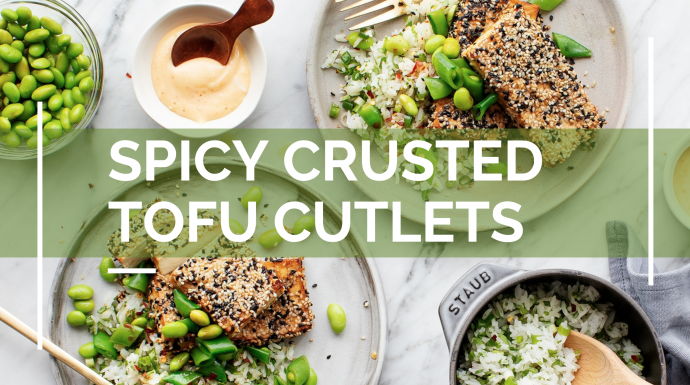 Unlike packaged tofu burgers, which are often a mysterious mix of beige ingredients, these cutlets are slabs of pure tofu, coated heavily with spice and cooked in the Cajun "blackened" way by searing them in a hot pan with no oil. The result is a terrific contrast between a smoky, crisp flavorful outer surface and a creamy pure interior. I like to make this with a spice mix called "za'atar", which is a Middle Eastern blend. You can make your own or buy it ready-made at some specialty foods stores and supermarkets. You can also use a store-bought Cajun spice blend, or work up your own secret mix, using the "za'atar" recipe below as a starting point.
I always simmer firm tofu before cooking it.
Ingredients
1 pound very firm tofu, cut into 4 slices, each about ¾-inch thick
za-atar spice mix
3 tablespoons sesame seeds
1 teaspoon dried thyme
1 teaspoon dried marjoram or oregano
¼ teaspoon garlic powder
¼ teaspoon freshly ground black pepper
¾ teaspoon salt
1/8 teaspoon red pepper flakes
Directions
Step 1
Put a medium-large pot of water to boil over high heat, and place a colander in the sink. When the water boils, turn the heat to low and add the 4 slices of tofu. Simmer for 10 minutes. Then gently slip the tofu into the colander to drain, being careful not to break the slices.
Step 2
Meanwhile, combine the spice mix ingredients in a small bowl. Pour the mix into a pie pan and spread it out.
Step 3
Turn on the stove fan and/or open the kitchen window (this process can create a fair amount of smoke). Place a large (10-to 12-inch) heavy skillet over medium heat and wait for about a minute.
Step 4
While the pan is heating, carefully place one of the tofu slices in the spice mix, patting it down to coat one side; then sprinkle the mix on top and pat it on with your fingers to coat the surface evenly. Transfer the slice to a plate and repeat with the other 3 slices. Some coating may fall off; try to sprinkle as much of it as you can back onto the tofu, using up all the mixture.
Step 5
Gently transfer the tofu slices to the hot pan, and let them cook, undisturbed, for about 2 minutes, or until they are golden underneath.
6. Use a thin-bladed metal spatula to carefully loosen each cutlet and gently flip it over. Cook on the second side for 2 minutes, or until the undersides are nicely browned.
7. Transfer the cooked cutlets to serving plates, and serve right away.
Tips
There will be a lot of flavor left in the pan. You can retrieve it by pouring in 1 to 2 tablespoons olive oil and stirring it so the oil picks up all the leftover spice mix. Spoon this over the tops of the cutlets for a delightful finish. You can serve these on toasted burger buns or soft rolls with lettuce, tomato, and mayonnaise.
Use the cutlets just as you would use a grilled chicken breast—sliced into strips to top a Caesar Salad or a green salad, rolled in a tortilla with rice and beans to make a wrap, or in a bag-lunch sandwich.
I hope you will love it! Enjoy!