Buffalo Chicken Bites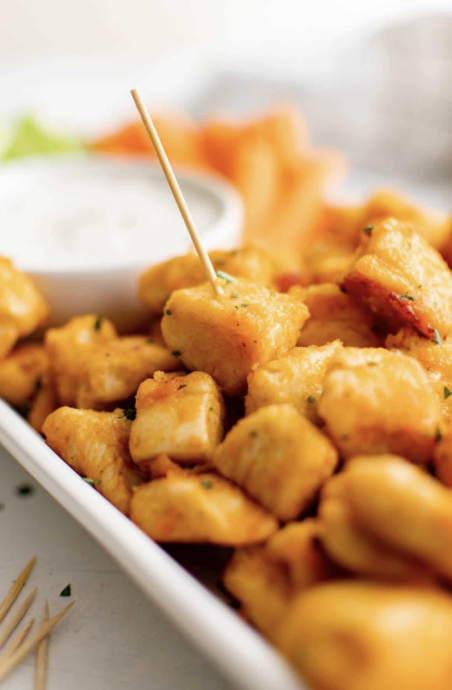 Tangy with a light crust, these Buffalo Chicken Bites are the perfect appetizer or party dish to make for your family game night or neighborhood barbecue. Serve them with ranch, carrots, and celery and you've got yourself a winner!
It's no secret on this blog that I have a family of buffalo sauce lovers. We'll use it in everything from casseroles to hot dogs, and of course, we love a basket of buffalo wings whenever we eat out. These bite-sized chunks of buffalo chicken have all the flavor I love about buffalo chicken wings, without the fuss. There's hardly any prep involved to get them coated in a simple homemade buffalo sauce, and the juicy chicken pieces bake up easily in the oven.
Serve these up with your favorite dipping sauce for an easy weeknight appetizer, or with a side of toothpicks as a fun party snack the next time you entertain. I make them a little milder for the kids, and they can never get enough.
Whether I bring these out on gameday or take them along to my neighborhood barbecues in the summer, these hot and buttery buffalo chicken bites rarely last long!
Ingredients:
1 cup cornstarch
1 tsp garlic powder
1 tsp onion powder
1 tsp salt
½ tsp ground black pepper
2 – 2 ½ lbs boneless, skinless chicken breasts cut into 1-inch pieces
4 tbsp vegetable oil
For the Sauce:
4 tbsp unsalted butter
3 cloves garlic finely minced
½ cup buffalo hot sauce (like Frank's)