Steak Sandwich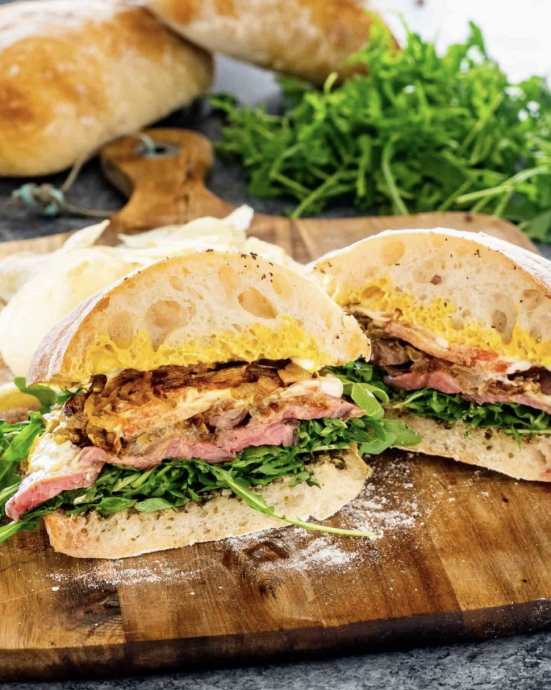 Layered with perfectly cooked juicy steak, sweet caramelized onions, and herby pesto, this Steak Sandwich is unbelievably delicious! It's seated between a crusty ciabatta bun and then topped with a handful of spicy arugula and fresh sliced tomato to make it unforgettably good. It's the perfect easy weeknight meal or weekend lunch!
Who doesn't love juicy meat between fresh crusty bread!?! It's the simplest thing ever but oh so good and an easy sell in my house. We are meat eaters and love fresh baked bread just as much. The only question is what kind of meat, what kind of bread, and what are we going to put on it?
So this grilled Steak Sandwich recipe is amazing! It's got some aspects of a tasty French Dip Sandwich in that it's beef topped with perfectly caramelized onions and layered between fresh chewy bread. Yet, different because it calls for flank steak and is spread with pesto just like my Turkey Panini. It's a delicious combination of ingredients with lots of meaty goodness with just the right touch of sweet onion and herby pesto.
Ingredients:
Steak Sandwich
2 pounds flank steak
½ teaspoon salt or to taste
½ teaspoon black pepper or to taste
4 ciabatta buns
2 cup baby arugula
4 tablespoons pesto
4 tablespoons mayonnaise
4 tablespoons mustard
2 tomatoes sliced (optional)
Caramelized Onion
3 tablespoons butter
2 large onions sliced
1 teaspoon sugar
½ teaspoon salt or to taste
½ teaspoon pepper