Pumpkin Spice Chocolate Pudding Oatmeal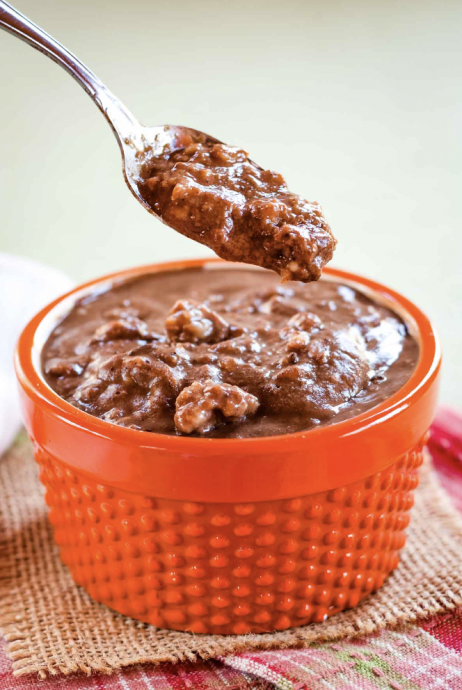 Warm up inside and out with a hot bowl of wholesome Chocolate Pumpkin Oatmeal for breakfast. If you haven't tried the combination of chocolate and pumpkin spice, now is the time. This easy recipe tastes decadent, but packs in plenty of healthy whole grains, plus some sneaky veggies and protein!
You are not going to believe that this bowl of rich, chocolaty oatmeal is totally healthy (and gluten free as long as you check that your oats are gluten free). Which means that you can feel good about indulging in chocolate for breakfast on a dail basis.
So how do I make it rich and satisfying? Well, the cocoa powder gives it that indulgent chocolatiness. But my other secret is egg whites! After you cook your oatmeal to your desired texture, slowly stir in some egg or egg whites (the pateurized ones in a carton work fine too). It gives the pumpkin oatmeal a rich, creamy, pudding-like texture, plus a nice dose of protein to keep you totally satisfied.
Talk about a homerun way to start your day!
Ingredients:
1/3 cup old fashioned oats gluten-free, if needed
2 Tablespoons unsweetened cocoa powder
1-2 teaspoons sugar, brown sugar, honey, maple syrup, or equivalent sugar free sweetener of choice
1 teaspoon pumpkin pie spice
pinch salt
2/3-1 cup water the more water you use, the creamier it will be, but you will have to cook it longer
1/3 cup unsweetened almond milk or your dairy or nondairy milk of choice
1/4 cup pumpkin puree not pumpkin pie filling
2 egg whites, lightly beaten or 1/3 c pasteurized egg white from a carton (can also use one lightly beaten egg, but I prefer the more neutral taste of just the whites).
A little butter for serving if desired