Instant Pot Vegetable Beef Barley Soup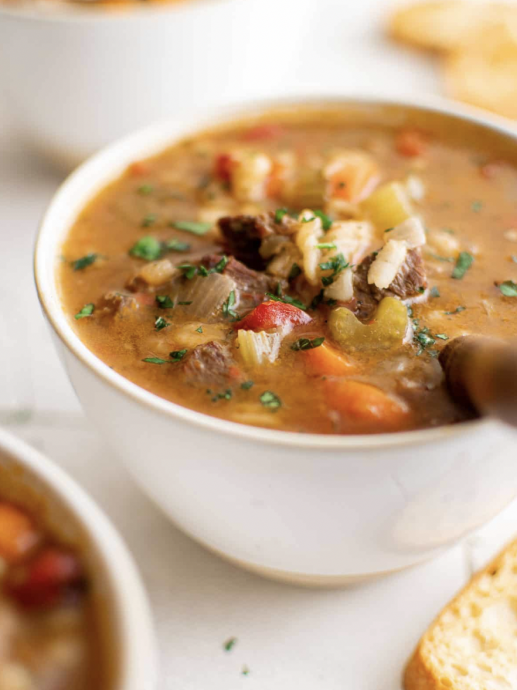 This Instant Pot Vegetable Beef Barley Soup is the ultimate in winter comfort food. Made with tender chunks of beef, fresh vegetables, barley (or cauliflower for low carb), and a rich, delicious broth. It is simple to make and comes together in just 30 minutes.
While this recipe is already quick and easy, you can prep all the veggies and the beef ahead of time and then just toss it in the Instant Pot when you are ready to eat. Alternatively, you can prep the meat and veggies ahead of time and freeze them for later use.
To make this a low carb vegetable beef soup, simply omit the barley. You can substitute extra veggies, or simply omit it.
Ingredients:
1 tablespoon of olive oil
1 small onion, diced
3 cloves of garlic, minced
1 ½ pounds chuck roast, cut into ½ inch pieces (I get all my meat here)
1 ½ teaspoons sea salt (this is the only salt I use) code PEACE for 15% off
1 teaspoon ground black pepper
1 teaspoon dried Italian seasoning
1 teaspoon chili powder
3 ribs celery, sliced (about 1 cup)
3 carrots, peeled and sliced (about 1 cup)
1 bay leaf
6 cups beef broth
1 (14.5-oz) can fire roasted tomatoes, with the juices
⅔ cup pearled barley