Skeleton Gingerbread Cookies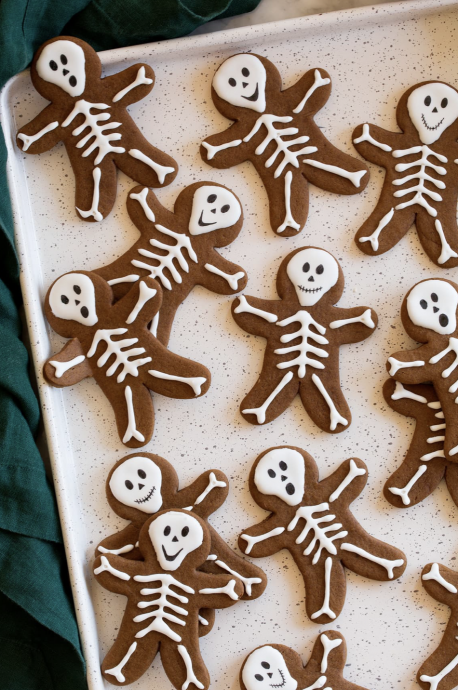 Skeleton Gingerbread Cookies – Here the classic, Christmasy, gingerbread men cookie cutters are repurposed to create a fun Halloween cookie. A soft, richly molasses flavored, highly spiced cookie is decorated with a sweet vanilla icing for the perfect fall treat.
After just one bite I have the feeling these will become a new Halloween tradition for you. Not only are they such a cute treat but they are an intensely delicious treat too (every time I make them I think I eat half the batch myself!).
Ingredients:
3 cups (425g) all-purpose flour
1 Tbsp ground ginger*
2 tsp ground cinnamon
1/4 tsp ground nutmeg
1/4 tsp ground cloves
3/4 tsp baking powder
1/2 tsp baking soda
1/2 tsp salt
3/4 cup (150g) dark brown sugar or light brown sugar
10 Tbsp (141g) unsalted butter, softened about halfway
1 large egg yolk
1 1/2 tsp vanilla extract
1/2 cup (172g) unsulphured molasses (not backstrap)
1 Tbsp milk
Icing
1 1/2 cups (180g) powdered sugar
2 1/2 tsp (7g) meringue powder