Slow Cooker Taco Soup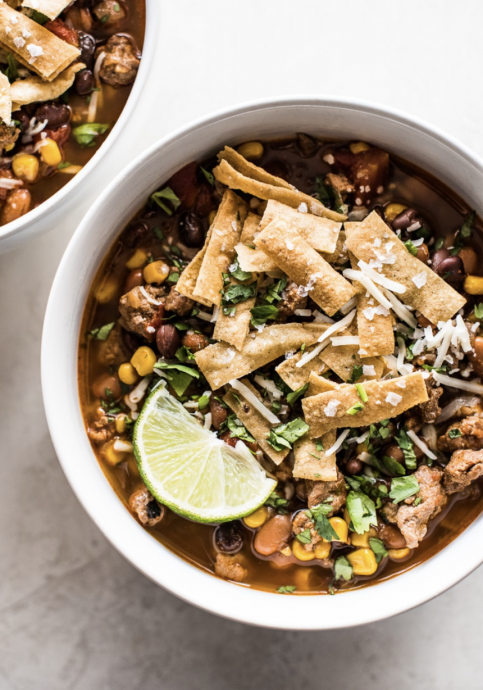 This easy and comforting Slow Cooker Taco Soup is perfect for busy weeknights and makes great leftover lunches. Made with beans, corn and the best Tex-Mex ingredients!
There's nothing better than a hearty, filling and flavorful bowl of taco soup! Seasoned with my favorite southwest seasonings, this soup is made with pinto beans, black beans, corn, fire-roasted tomatoes, onions and ground turkey.
It's made in the slow cooker, which means you can get it going in the morning, forget about it during the day (though that may be hard because your house will smell amazing) and then eat it for dinner! It's a definite crowd pleaser that's also budget friendly and healthy! That's a win-win my book.
Ingredients:
2 tablespoon olive oil
1 large onion, diced
1 pound Honeysuckle White 93% Lean Ground Turkey
2 teaspoons coarse kosher salt, divided
2 cups chicken broth
1 15-ounce can fire-roasted diced tomatoes
1 15-ounce can black beans, drained and rinsed
1 15-ounce can pinto beans, drained and rinsed
1 15-ounce can whole corn kernels, drained and rinsed
2 tablespoons chili powder
1 teaspoon ground cumin
1 teaspoon smoked paprika
1/2 teaspoon dried oregano
2 tablespoons lime juice (about the juice of 1 lime)
1/4 cup chopped cilantro (optional)
4 ounces cream cheese (optional)
optional toppings: tortilla strips and shredded cheese