Vegan baked pumpkin oatmeal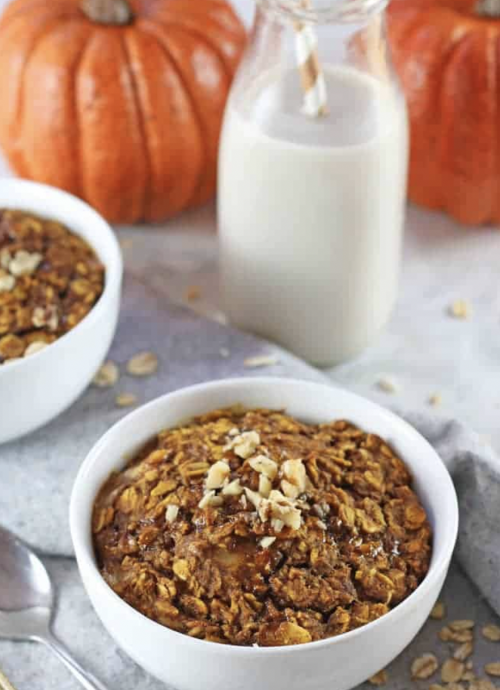 This vegan baked pumpkin oatmeal is a tasty and healthy breakfast option. Full of pumpkin goodness, it's perfect for fall or anytime you want a delicious warm breakfast.
It's weird how much I like my baked pumpkin oatmeal because I'm actually not the biggest fan of regular oatmeal. I noticed that when I bake it though, I really enjoy it.
My friend actually came up with this idea after I was complaining how much I wanted to like regular oatmeal but just couldn't get over the texture. She said, why not heat the oatmeal in a different way like baking it so it's more firm? And it worked for me!
If you're not into regular oatmeal either, I hope you try this because it's more like a cake than oatmeal.
Ingredients:
⅔ cup old fashioned rolled oats (gluten-free if needed)
a pinch salt
a pinch baking powder
½ teaspoon cinnamon
1 teaspoon pumpkin pie spice
¼ cup canned pumpkin puree or mashed of roasted pumpkin
1 TB of nut butter (I like almond or cashew)
4 tbs dairy free milk
½ a ripe banana mashed
¼ teaspoon of vanilla extract
Optional Toppings: nuts, nut butter, maple syrup