Banana Cake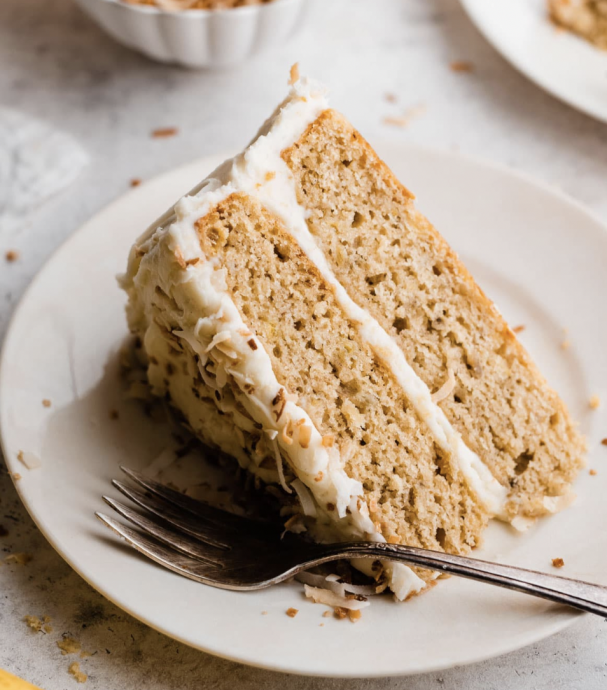 Moist, tender, and speckled with the sweet, fruity taste of ripe bananas, this easy Banana Cake recipe boasts old-fashioned flavor, slathered in a dream of cream cheese frosting.
When the occasion calls for dessert—be it a birthday, a dinner invitation to a friend's, or a potluck when you want to bring everyone's favorite dish—this easy moist banana cake delights.
It's homey and familiar—just like grandma's banana cake—but also a little unexpected.
To summarize: it's perfect for sharing and celebrating.
Ingredients:
For the Banana Cake:
1 1/2 cups mashed very ripe bananas (about 3)
2 large eggs
3/4 cup granulated sugar
1/4 cup light brown sugar
1/3 cup canola oil
1 teaspoon vanilla extract
1 cup whole-wheat pastry flour
1 cup all-purpose flour
1 teaspoon baking powder
1/2 teaspoon baking soda
1/2 teaspoon kosher salt
1/2 cup nonfat buttermilk*
For the Toasted Coconut Cream Cheese Frosting:
8 ounces reduced fat cream cheese at room temperature
4 tablespoons unsalted butter at room temperature
3 3/4 cups powdered sugar
2 teaspoons vanilla extract
1/8 teaspoon almond extract
1 1/4 cups flaked sweetened coconut