Caramel Macadamia Nut Pumpkin Pie Bars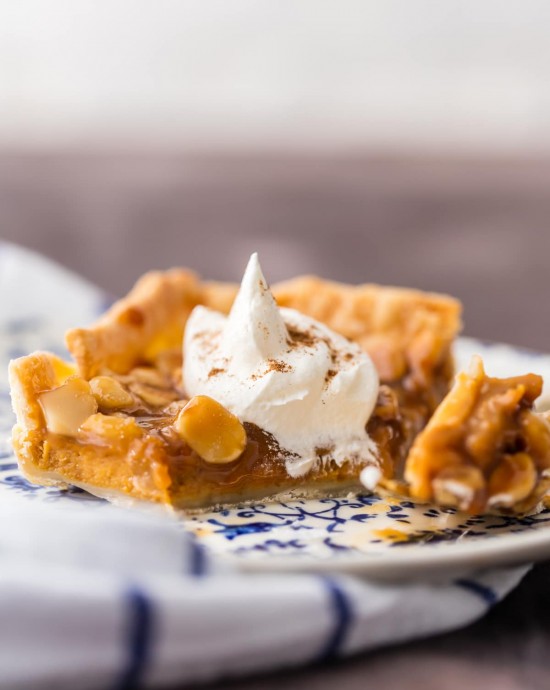 Pumpkin Pie Bars are just another great way to enjoy pumpkin during the fall season. These Caramel Macadamia Nut Pumpkin Pie Bars are truly heaven on Earth! These easy pumpkin bars are a twist on a classic that will be the absolute winner on any special occasion menu!
Pumpkin Pie Bars are a twist on the classic pumpkin pie. We added caramel and macadamia nuts, and turned this delicious treat into an easy pumpkin bars recipe! You get the classic pie flavor with a caramel and macadamia nut topping, served in bar form! This is an absolutely amazing party dessert that's sure to please all your guests.
These Caramel Macadamia Pumpkin Pie Bars are the perfect size, the perfect sweetness, and the perfect wow factor. Top with some whipped cream and you're really in business. These pumpkin pie pie bars are the perfect dessert to make ahead of time. They'll need to sit in the refrigerator overnight (or at least for a few hours) so the caramel topping can set. Which means you can get your Thanksgiving dessert ready well beforehand and then not worry about it until it's time to serve!
Ingredients:
2 premade pie crusts – enough for 2 single crust pies
½ cup granulated sugar
½ teaspoon salt
1 teaspoon ground cinnamon
½ teaspoon ground ginger
½ teaspoon pumpkin pie spice
¼ teaspoon ground cloves
2 large eggs slightly beaten
1 can 15 oz. Libby's 100% Pure Pumpkin
1 can 12 fl. oz. evaporated milk
Garnish: freshly whipped cream or whipped topping
1 cup Hot Caramel Topping Smucker's works well
1 cup dry roasted Macadamia nuts rough-chopped