Chicken Taco Salad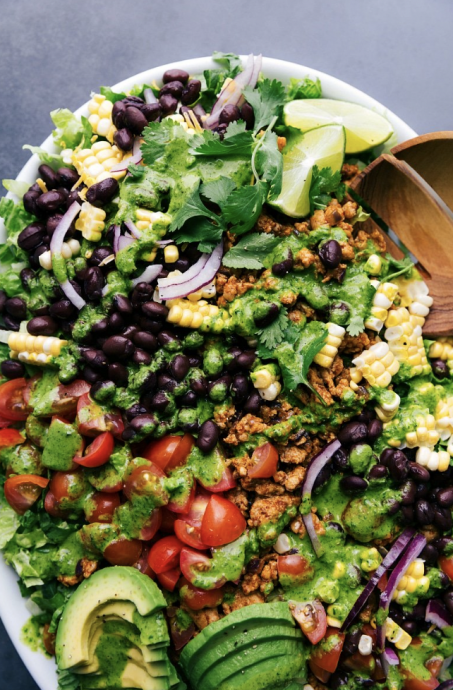 This healthy Chicken Taco Salad is loaded with seasoned ground chicken, black beans, tomatoes, corn, onion, Cheddar cheese, and avocado. Top it off with a drizzle of easy homemade cilantro-lime vinaigrette.
Chicken Taco Salad is loaded up with veggies, a simple ground chicken mixture, and the best cilantro vinaigrette. It's similar to my Turkey Taco Salad, but with a vinaigrette instead of a creamy dressing.
It's packed with nutritious ingredients and so many amazing textures and flavors.
Ingredients:
DRESSING
2 cups cilantro twist and rip off the top half of the bunch of cilantro to loosely measure (stems are fine)
1/4 cup + 2 tablespoons lime juice freshly squeezed
1 teaspoon lime zest
1 and 1/2 tablespoons diced jalapeño seeds and ribs removed
1/4 cup olive oil
3 tablespoons rice wine vinegar
1 tablespoon Dijon mustard
2 teaspoons white sugar
Salt and pepper, to taste
SALAD
1 tablespoon olive oil
1 pound ground chicken
1 red onion, separated (See Note 2)
1-2 cloves garlic, minced (1 and 1/2 teaspoons)
1 packet taco seasoning (See Note 3)
8 cups romaine lettuce, thinly sliced (3 heads of lettuce)
1 can (15 ounces) black beans, drained & rinsed
1 cup fresh corn, cut off the cob (~2 ears of corn)
1 large avocado, (or 2 small-medium ones) thinly sliced or diced
1 and 1/4 cups cherry tomatoes, halved
1/2 cup extra-sharp Cheddar cheese, freshly grated
Optional: additional limes and cilantro for topping salad