Homemade Gluten Free Lasagna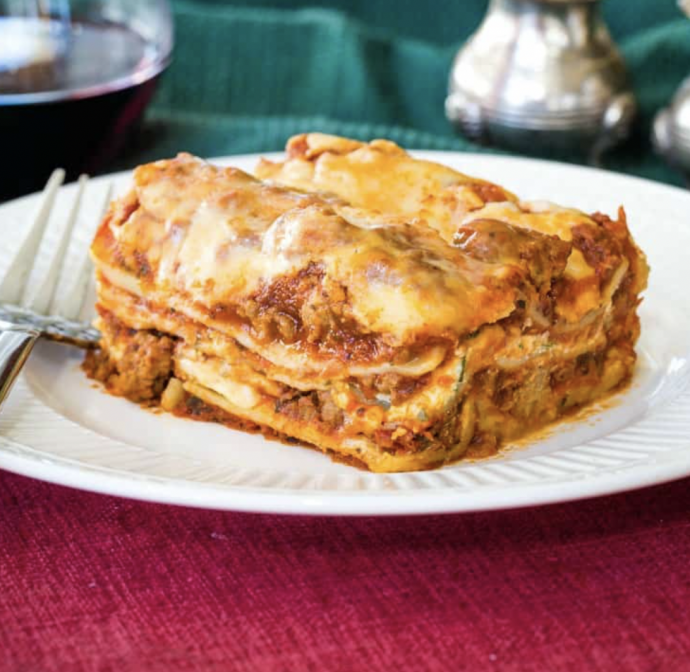 Gluten Free Lasagna is the ultimate Italian comfort food with layers of rich and hearty meat sauce, three kinds of cheese, and gluten free lasagna noodles. Find out which pasta to choose, and there's no doubt that you'll be calling this the World's Best Gluten Free Lasagna recipe ever!
There are some traditional lasagna recipes that call for a bechamel. This is a white cream sauce traditionally thickened with a roux made with flour and butter. This recipe does not have a bechamel sauce, so that is not a concern. But you do still get that creaminess in this gluten free lasagna with ricotta cheese mixture instead. Ricotta cheese is gluten free, and it is simply mixed with egg, salt, and fresh parsley.
Ingredients:
For the meat sauce:
1 pound sweet Italian turkey sausage
3/4 pound lean ground beef
1/2 cup onion , minced
2 cloves garlic , crushed
28 ounce can crushed tomatoes (Tuttorosso is recommended)
12 ounce can tomato paste (or two 6 ounce cans)
15 ounce can tomato sauce
1/2 cup water
2 Tablespoons sugar (optional)
1 1/2 teaspoons dried basil leaves
1 teaspoon Italian seasoning
2 teaspoons salt
1/4 teaspoon ground black pepper
2 Tablespoons chopped fresh parsley
For the ricotta cheese mixture:
16 ounces ricotta cheese
1 egg
2 Tablepsoons chopped fresh parsley
1/2 teaspoon salt
For assembling the lasagna:
12 Barilla Gluten Free Oven-Ready Lasagne Noodles
1 1/2 cups shredded mozzarella cheese
3/4 cups grated Parmesan cheese