30 Minute Broccoli Cheddar Soup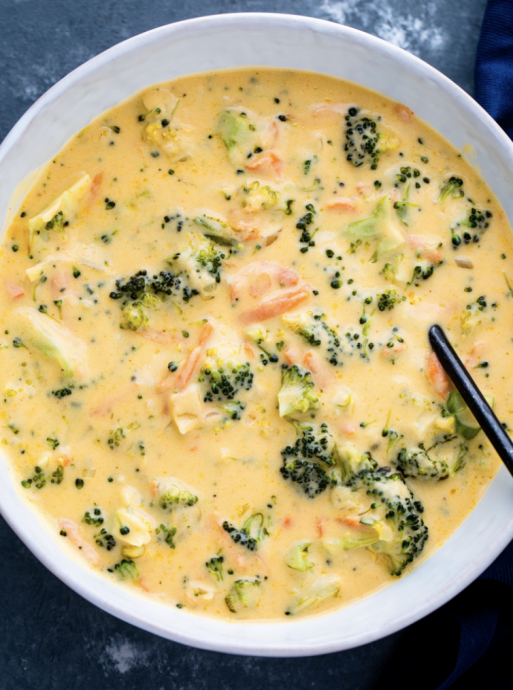 Healthy broccoli cheddar soup packed with carrots, broccoli, garlic, and cheese. This creamy velvety soup is much better than Panera's broccoli cheddar soup and can be made in under 30 minutes for a fraction of the price!
Soup is an essential winter meal and when it comes to picking our absolute favorite soup, this cheddar broccoli soup has earned the #1 spot. It's a favorite of kids because of it's creamy texture and cheesy flavor, and loved by parents because it's secretly loaded with a ton of nutritious veggies.
If you've ever had Panera's broccoli cheddar soup then you will LOVE this soup. It's almost a copycat version of it except with much more flavor and texture.
The soup is made with an almost caramelized onion and garlic-based and thickened with a roux (butter and flour mixture) then simmered with veggie stock, broccoli, and carrots. At the very end, half & half and freshly grated cheddar cheese are added to give it a velvety smooth texture.
Ingredients:
4 tablespoons butter ½ stick
½ medium onion chopped
2-3 cloves garlic minced
4 tablespoon AP flour
2 cups low sodium chicken or vegetable stock
1 tsp kosher salt
½ tsp black pepper
¼ tsp paprika or ground nutmeg, optional
3 cups broccoli florets or 1 large head, cut into small pieces
1 large carrot grated, julienned or finely chopped
2 cups half & half or milk or light or heavy cream
8 oz block grated cheddar cheese or 2 cups (mild, medium, or sharp )