Firecracker Shrimp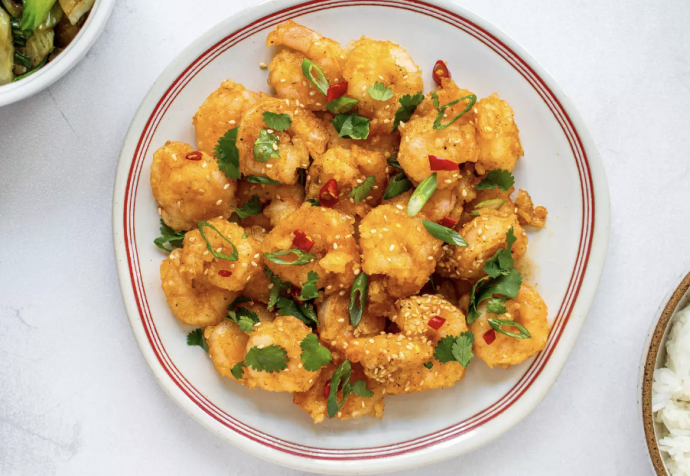 Firecracker shrimp are an Asian-inspired flavor celebration. A quick and easy treat for all occasions, this dish works as a flavorful appetizer or as an entrée with rice and veggies. Peeled shrimp are tossed in potato starch, fried to crispy perfection, and thoroughly coated in a sticky, sweet, and spicy sauce, then garnished with sesame, green onion, cilantro, and chile. Each bite-size shrimp explodes with flavor, like a little firecracker. If you love shrimp, these may prove addictive.
The heat level is up to you, depending on your choice of sriracha and the quantity of Thai chile in your garnish. As written, the sauce doesn't bring a ton of heat. That's because concentrating spice in the garnish, rather than the sauce, allows each diner to choose mild or spicy with every bite.
You don't absolutely need a deep fryer for this recipe, but it makes the difference between quick and easy, and longer and a bit messier. A fryer regulates the temperature automatically for consistent results, and its basket keeps the process simple and tidy.
Ingredients
Peanut oil, for frying
3 tablespoons honey
1 tablespoon Sriracha sauce
1 teaspoon grated ginger root
1 dash fish sauce
1/2 lemon, juiced
1 1/2 pounds (26 to 30 count) white shrimp, peeled, deveined, and tails removed
1/2 cup potato starch
Sesame seeds, for garnish
Scallions, sliced on a bias, for garnish
1 red Thai chile pepper, sliced, for garnish
Torn fresh cilantro, for garnish
1/2 teaspoon Szechuan peppercorns, ground, optional
Rice, and steamed vegetables, for serving, optional