Swedish Sticky Chocolate Cake (Kladdkaka)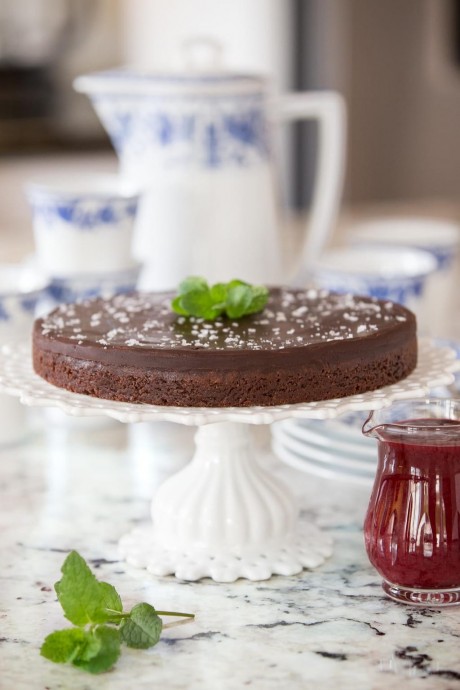 Kladdkaka (aka Swedish Sticky Chocolate Cake) is one of Sweden's most beloved (and easy) desserts and every chocolate lover's dream come true! This version is also a one-bowl, no-mixer recipe that comes together quickly with pantry staples! Its ingredients are all pantry or refrigerator staples so it's easy to put together without making a trip to the grocery store.
Kladdkaka is similar to our beloved American brownies but different at the same time. It's a dense, rich chocolate dessert with a crisp exterior and a soft and gooey interior. It's a bit like an underbaked chocolate cake, reminding me of our "molten chocolate cakes" that were popular several years ago. Kladdkaka is often described with words like "sticky", "gooey" and "fudgy". I describe it as a "chocolate lover's dream come"!
Not only is this Swedish Sticky Chocolate Cake super delicious, but it's also incredibly easy to make. If you have an 8-inch cake pan, a mixing bowl and a wooden spoon or whisk, that's all the equipment you'll need to put this cake together. And if you keep a stash of cocoa in the pantry, you probably have everything necessary to mix up one of these wonderful chocolate cakes. Serve your Kladdkaka on a pool of raspberry jam or coulis for a fabulous flavor combination and a beautiful presentation. The coulis looks fancy but it truly is ridiculously easy!Add a dollop of whipped cream and a sprig of mint. Expect lots of oohs and aahs!
Ingredients:
For the cake
10 tablespoons butter (I use salted)
1 ⅓ cups sugar
2 eggs
5 tablespoons unsweetened cocoa powder
¾ cup all-purpose flour
1 teaspoon vanilla extract
¼ teaspoon kosher salt
For the truffle topping:
½ cup heavy cream
8 ounces semisweet chocolate chips
1 teaspoon pure vanilla extract
flaky sea salt
For garnish:
whipped cream, mint sprigs optional
Raspberry Jam or Coulis