Breakfast Banana Crêpes + Tips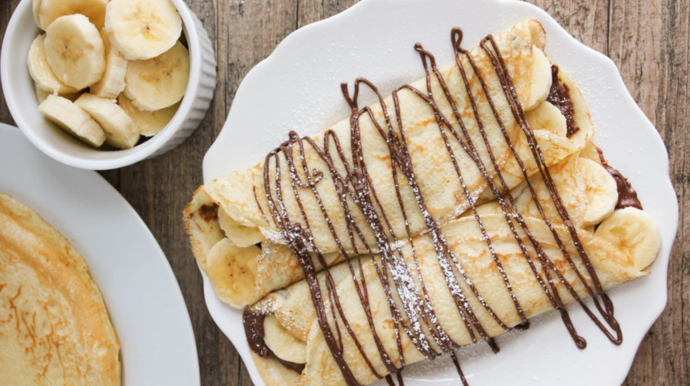 Oh là là … Our French friends have certainly earned more than three stars for their famous crêpes. In Brittany, crêpes are always served with sweet accompaniments, for example with sugar, jam, fresh fruit or hazelnut spread, and are served folded or rolled up. In this region, there is a clear distinction between the sweet crêpes and savoury galettes, whereas in other parts of France crêpes are also served with savoury fillings such as ham, cheese, egg, fish or vegetables.
Tips for perfect crêpes:
You can buy special low-sided crêpe pans with a wooden spreader for spreading the batter extremely thinly. Anyone making crêpes frequently would be advised to invest in a crêpe maker which makes the process as easy as child's play. All you have to do is to pour the batter onto the plate and spread it smoothly: with a little practice, it will take just under a minute to produce the perfect crêpe. You can naturally also make crêpes in a normal non-stick frying pan; a low rim makes it easier to lift the thin pancake out of the pan in one piece.
Not a must, but an advantage: allow the batter to soak for 15 minutes for a smoother texture.
Replace a portion of the milk or buttermilk (approx. 50 ml) with mineral water. This will make the crêpe lighter and also crispier. Crêpe batter should normally possess a thinner texture.
When pouring the batter into the pan, it is best to start with a smaller volume of batter and then tilt the pan to spread the batter evenly. If you do accidentally put too much batter into the pan, you can simply pour out the excess amount!
Do not cook the crêpes at too hot a temperature: a medium setting is best.
Use as little fat as possible when cooking.
It is best to keep the crêpes hot in a warm oven until serving.
Ingredients
For the crêpe batter
50 g butter
200 g wheat flour
4 eggs
500 ml milk
1 tsp sugar
pinch of salt
For the bananas
4 bananas
2 tbsp butter
2 tbsp chopped pistachios or almonds
Cooking oil for frying
Directions
Step 1
For the batter, clarify the butter and leave to cool slightly. Sieve the flour into a mixing bowl. Separate the eggs. Beat the egg yolk with the milk, sugar and salt and gradually add to the flour, making sure that no lumps form. Stir in the clarified butter. Leave to stand for 30 minutes.
Step 2
Meanwhile, peel the bananas and cut in half lengthwise. Melt the butter in a frying pan at a medium heat and fry the bananas from both sides.
Step 3
Heat a little cooking oil in a non-stick frying pan. Stir the crêpe batter well once again and pour a thin layer of batter into the pan, spreading it evenly. Bake the crêpe on both sides until golden brown; before turning the crêpe, add a little oil to the pan. Bake the rest of the crêpes in similar fashion and keep warm.
Step 4
Arrange crêpes on individual plates. Decorate with two banana halves for each crêpe and serve sprinkled with pistachios or almonds.
Bon Appétit!