Colorful Veggie Sesame Noodles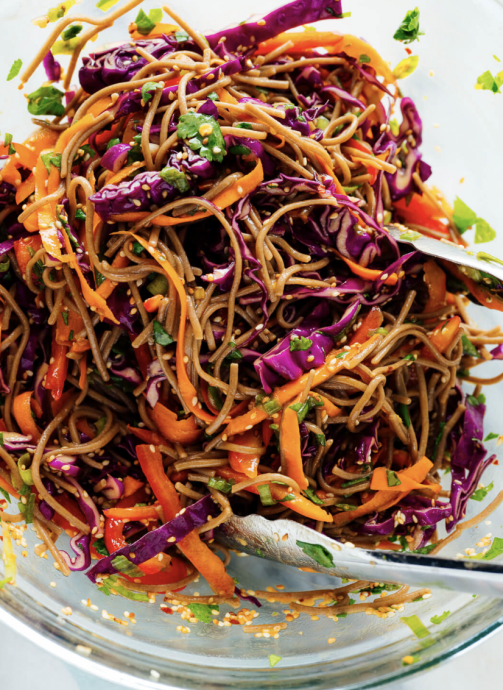 These sesame noodles are colorful and completely irresistible! I'm always excited when I find sesame noodles amongst a plethora of dishes at a gathering. As a solo dish, I crave noodles with a little more color, perhaps, and more texture and flavor. Must be the "maximalist vegetarian" in me. Always more veggies!
This riff on sesame noodles is exactly what I've wished for. This recipe features tender noodles and green onions, of course. I replaced some of the noodles with tons of crisp raw veggies, plus I added tiny sesame seeds, toasted to bring out their best.
The bold but simple seasonings include soy sauce, sesame oil, fresh ginger and garlic, and a generous sprinkling of fresh cilantro (omit it if you don't like it). I added some chili flakes for extra heat, which you can scale up or down to suit your preferences.
Ingredients:
8 ounces soba noodles or spaghetti noodles of choice*
¼ cup raw sesame seeds
⅓ cup reduced sodium tamari (or soy sauce, just be sure it's reduced sodium or it will taste too salty)
¼ cup toasted sesame oil
2 tablespoons lime juice (about 1 medium lime)
1 teaspoon grated fresh ginger
2 cloves garlic, pressed or minced
½ teaspoon red pepper flakes, to taste (scale back or omit if sensitive to spice)
2 ½ cups thinly sliced red cabbage (about 10 ounces or ¼th medium cabbage)
3 whole carrots, peeled and then sliced into ribbons with vegetable peeler (about 1 ½ cups)
1 red bell pepper, sliced into very thin strips
1 bunch green onions, chopped
½ cup chopped cilantro
Optional: 2 cups shelled edamame, steamed