Butternut Chicken Coconut Curry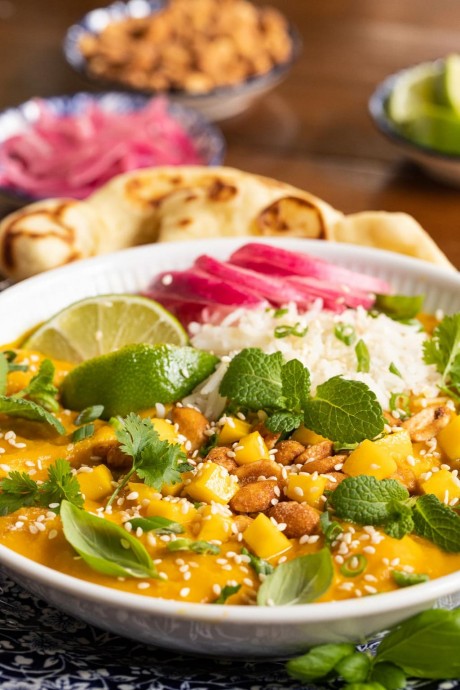 Healthy and super delicious, this Butternut Chicken Coconut Curry comes together in less than an hour. It makes a beautiful presentation and can be prepped ahead for easy, elegant entertaining.
If you think that delicious and healthy don't go together, you haven't met this Butternut Chicken Coconut Curry. It's loaded with fresh veggies (butternut squash, carrots, bell pepper, onion and apple) and lots of lean chicken breast. The fragrant sauce has a beautiful golden hue and its fabulous flavor comes from a combination of the pureed veggies and wonderful aromatics like ginger, garlic, curry powder, coconut milk, a splash of maple syrup and a pinch of cinnamon.
It's an easy, prep-ahead recipe. How does it all come together? So easy! After sautéing the aromatics (onions, garlic, ginger, curry powder) until soft and fragrant, chicken broth and lots of veggies are added and everything is simmered together until tender. Add the creamy, delicious coconut milk and then blitz with an immersion blender (or regular blender) till the sauce is smooth, silky and bursting with fabulous flavor.
Adding the chicken is the last step, and there's a magical little technique that's utilized to ensure the thin slices remain tender and juicy. It's an old Chinese trick called velveting, one that's often used in Asian restaurants. This velveting technique doesn't take a lot of extra time, but it does make a huge difference. How does it work? Simply whisk together egg white, cornstarch, rice vinegar and a drizzle of oil. Add the chicken, stir to coat and let the magic take place over the next 15-20 minutes. Then just slip the chicken into the bubbling sauce, stir and cover. Turn off the heat, set a timer for 10 minutes and call everyone for a delicious, healthy, company-worthy dinner.
Ingredients:
1 medium red onion peeled halved and sliced in thin wedges
juice of 1 medium-size lime
½ teaspoon sugar
⅛ teaspoon kosher salt
For the coconut curry sauce:
2 tablespoons butter
1 large onion peeled halved and coarsely chopped
1 large yellow or orange bell pepper cored and roughly chopped
2 medium cloves garlic roughly chopped
1 ½ tablespoons finely grated fresh ginger
1 tablespoon mild yellow curry powder
1 tablespoon maple syrup
6 cups low sodium chicken broth
5 cups peeled & chopped butternut squash 1 medium-small butternut squash
1 pound baby carrots or regular carrots, peeled and coarsely chopped
1 apple medium-size Golden Delicious, Braeburn, Fuji, Pink Lady, etc
1 large bay leaf (or 2 small)
½-2 teaspoons chili garlic paste
1 teaspoon kosher salt
⅛ teaspoon ground cinnamon
14 ounces light coconut milk 1 can
For the chicken:
12 ounces boneless skinless chicken breasts, halved lengthwise and cut into thin 1/4-inch slices widthwise
1 large egg white
1 tablespoon corn starch
2 teaspoons rice vinegar
1 teaspoon oil
For garnish: (optional)
salted dry roasted peanuts or honey-roasted peanuts
1 medium ripe mango peeled, stone removed and diced
fresh herb leaves mint, basil and/or cilantro
fresh lime wedges