Pumpkin Pudding Cake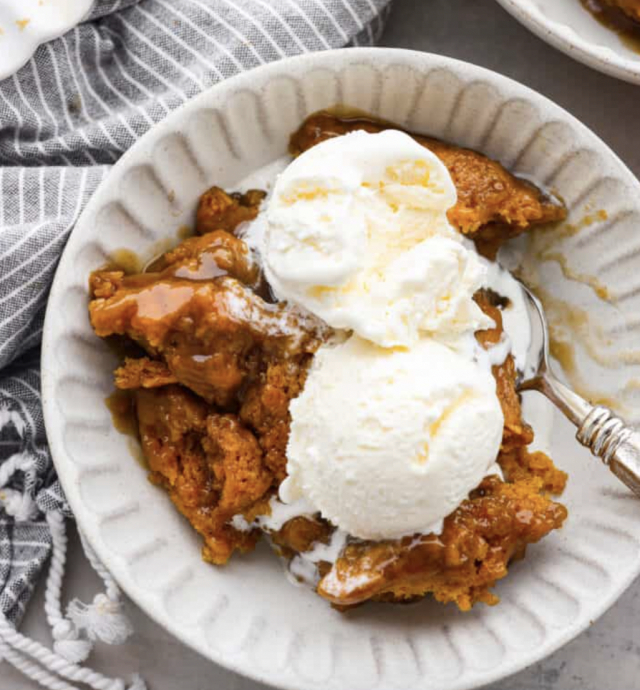 This pumpkin pudding cake is warm, gooey dessert perfection! It's a great finish to any fall or Thanksgiving dinner topped with a scoop of ice cream!
This pumpkin pudding cake might just be the only fall dessert you'll ever need. Pudding cakes are some of my all-time favorite desserts. (This lemon pudding cake is a must-try as well!) They're so gooey and warm, and the way that ice cream gets all melty when you serve it up? It's hard to beat. I'll be honest, though, the spiced pumpkin flavor in this particular recipe makes it absolutely to die for. There's rich pumpkin, warm spice, vanilla, and smoky brown sugar in each bite. It's my new favorite!
There are so many fall desserts out there, but this one is guaranteed to get you ooos and aahhs at the Thanksgiving table. It's the perfect mix of pumpkin cake and hot caramel sauce. It takes just minutes to throw together and bakes completely in one pan – which means less work, less mess, and you still reap all the benefits! (Plus, you don't have to tell anyone how easy it actually was to make.) Now, if you're ready to make a dessert that tastes like a warm hug.. let's get started!
Ingredients:
1 1/2 cups flour whole wheat or all purpose
3/4 cup + 1 cup brown sugar lightly packed, divided
2 teaspoons baking powder
1 teaspoon cinnamon
1/4 teaspoon salt
pinch of nutmeg
pinch of cloves
3/4 cup pure pumpkin puree not pie filling!
1/3 cup milk
1 tablespoon oil
1 teaspoon vanilla extract
2 teaspoons corn starch
1 1/4 cup hot or boiling water
2 tablespoons butter