Crunchy Thai Spring Rolls Recipe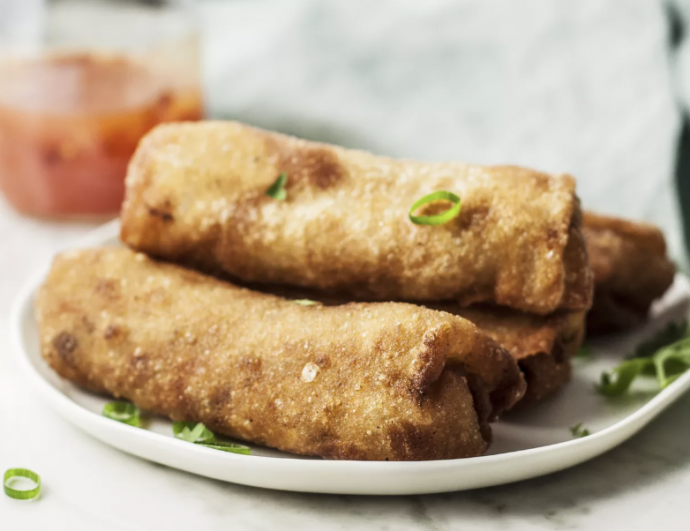 This classic Thai spring rolls recipe results in hot and crunchy rolls with a flavorful filling. A great-tasting filling really is the key to spring roll success. Part of what makes that happen is the fact that the filling ingredients are stir-fried before they're rolled.
This recipe is the perfect introduction for anyone who has not made spring rolls before. They're quite easy once you learn the steps, and you can use pork or tofu instead of chicken. When they're cooked, simply dip the rolls in a little Thai sweet chili sauce, which you can make yourself or find in the Asian section of most supermarkets.
Ingredients:
For the Stir-Fry Sauce
2 tablespoons soy sauce
1 1/2 tablespoons fish sauce, or vegetarian stir-fry sauce
1 tablespoon lime juice
1 tablespoon mirin, or dry sherry
1/4 teaspoon sugar
1/4 teaspoon ground white pepper
For the Filling
1 breast chicken breast, thinly sliced
1 tablespoon soy sauce, more as needed
2 tablespoons oil
4 cloves garlic, minced
1 (2-inch) piece galangal, or ginger, grated
3 medium green onions, sliced lengthwise into matchsticks
1 small red chile pepper, minced
1 large carrot, sliced lengthwise into matchsticks
4 to 6 medium shiitake mushrooms, finely chopped
1/2 cup shredded cabbage
2 to 3 cups bean sprouts
3 tablespoons lime juice, optional
12 spring roll wrappers
1/2 cup coarsely chopped fresh coriander
2 tablespoons vegetable oil, more as needed