Cheesy Beef Rotel Dip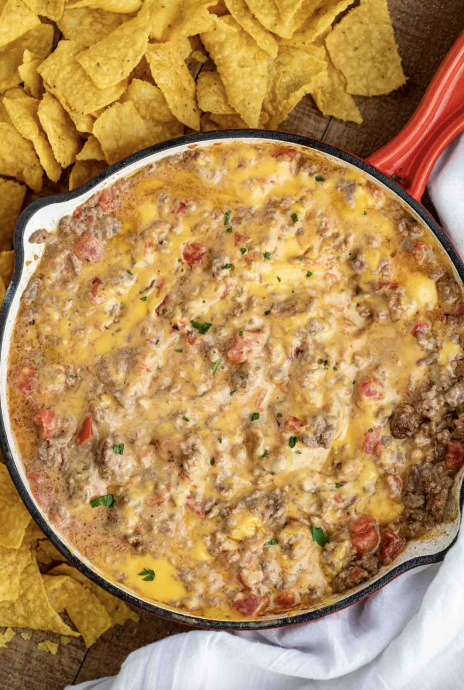 Cheesy Beef Rotel Dip is spicy, creamy, and the EASIEST dip you can make with only 3 ingredients in under 15 minutes!
Cheesy Beef Rotel Dip is spicy, cheesy, creamy, and everything you could ever want in a party or game day dip. It's also incredibly easy to make. All you need to do is brown the beef with seasoning, then add your Rotel and Velveeta cheese and melt everything together. It doesn't get more simple then that!
Change up the flavors of this dip recipe by making it with ground sausage or ground turkey instead of ground beef. I've also kicked up the spice with a dash of cayenne pepper, and topped with chopped cilantro for garnish. You can also serve this topped with some slices of jalapeño.
Serve Cheesy Beef Rotel Dip with tortilla chips for dipping. Or make a variety of dipping options like pretzels, crackers, or bread cubes. You can also use slices of veggies like bell peppers, carrots or celery to scoop up this flavorful crowd pleaser. Any way you serve it, this savory, cheesy, beefy appetizer will be the hit of your next party!
Ingredients:
1 pound ground beef , 85/15
1 teaspoon kosher salt
1/4 teaspoon coarse ground black pepper
16 ounces Velveeta cheese , cubed
10 ounces Ro-tel Tomatoes