Caramel Apple Pie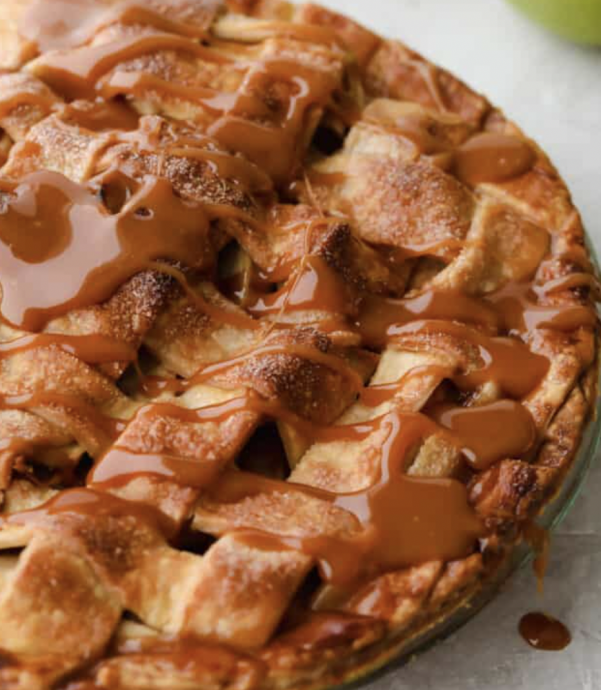 Caramel apple pie is the traditional American dessert, but totally elevated. Sour tart apples are smothered in caramel, it's insanely delicious.
Caramel apple pie is a twist on an all-American Pie that is absolutely incredible. The caramel takes the pie to a whole new level. Apples and caramel were meant to be together like in these Caramel apple cinnamon rolls or these Caramel apple cheesecake bars. Everyone will love this pie, even my friends who don't love apple pie at all, LOVED this pie. The sweet caramel makes all the difference!
This is a great pie to take to a party. Wait to get to your destination and you're ready to serve it before pouring the caramel on top. This is going to be the show-stopper dessert for sure. This is such a fabulous pie, you won't want to just save it for Thanksgiving or the fall. You are going to want to make this caramel apple pie year round! Don't fret, this pie is easier than you think, just try it and you'll never go back to regular apple pie again!
Ingredients:
2 homemade pie crust or pre-made pie crust (one for the bottom crust and one for the lattice top)
8 large granny smith apples peeled, cored, sliced
1 Tablespoon fresh lemon juice
¾ cup granulated sugar
1/4 cup cornstarch
1 teaspoon ground cinnamon
¼ teaspoon ground nutmeg
dash of salt
1 Egg yolk plus 2 tbsp water for egg wash
Salted Caramel Sauce
1 1/2 cups heavy cream
1 cup granulated sugar
1/3 cup light corn syrup
1 teaspoon salt
¼ cup salted butter
1 teaspoon vanilla extract