Extra Vegetable Fried Rice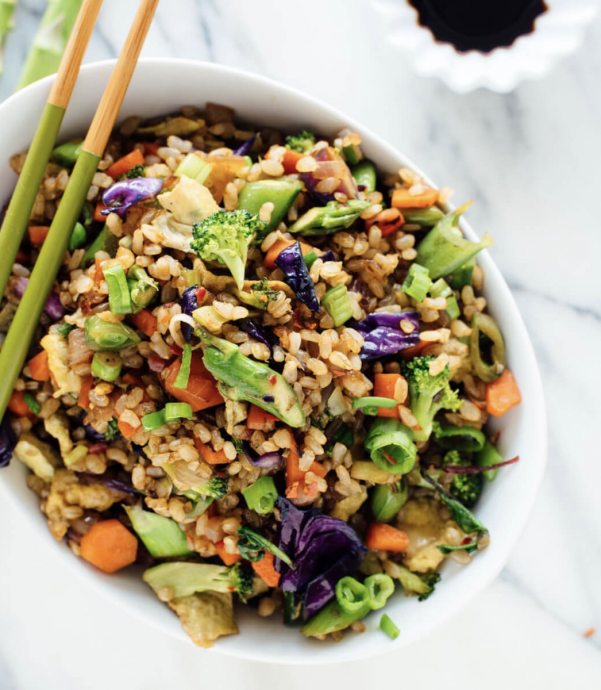 I set out to create a more interesting take on greasy take-out vegetable fried rice. Here it is in full glory, and it's as flavorful as it is colorful. Hooray!
I used brown rice, naturally, and even threw in a handful of greens, which offer even more health bonus points. (The greens are optional.)
I designed this recipe to work well in a regular skillet (preferably cast iron), since most of us don't have woks at home.
The only tricky part, which really isn't so difficult, is to cook the eggs, vegetables and rice separately, and combine them all at the end.
That way, each component will be cooked just right, and the vegetables and rice will get a chance to develop those delicious golden edges.
Ingredients:
1 ½ teaspoons + 2 tablespoons avocado oil or safflower oil, divided
2 eggs, whisked together
1 small white onion, finely chopped (about 1 cup)
2 medium carrots, finely chopped (about ½ cup)
2 cups additional veggies, cut into very small pieces for quick cooking (see photos for size reference; options include snow peas, asparagus, broccoli, cabbage, bell pepper, and/or fresh or frozen peas—no need to thaw first)
¼ teaspoon salt, more to taste
1 tablespoon grated or finely minced fresh ginger
2 large cloves garlic, pressed or minced
Pinch of red pepper flakes
2 cups cooked brown rice (*see notes!)
1 cup greens (optional), such as spinach, baby kale or tatsoi
3 green onions, chopped
1 tablespoon reduced-sodium tamari or soy sauce**
1 teaspoon toasted sesame oil
Chili-garlic sauce or sriracha, for serving (optional)