Green Beans with Mushrooms and Bacon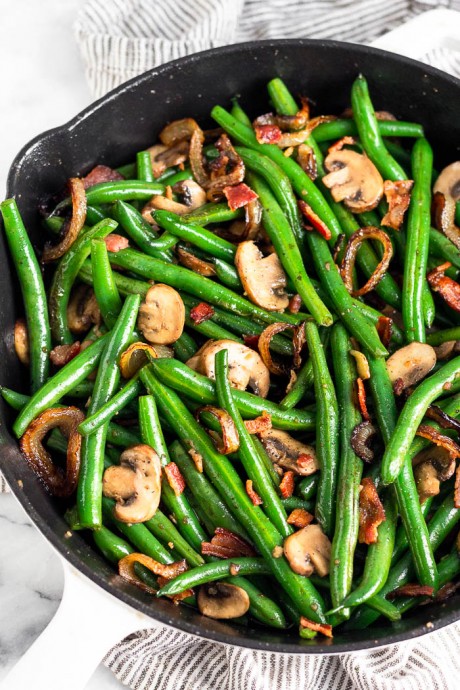 Green Beans with Mushrooms and Bacon make an easy and quick holiday side. With only 6 ingredients and 30 minutes to make, they are packed with the flavors of your typical green bean casserole, but make holiday cooking a breeze!
Green beans always make an appearance at holidays in my family. They are just so easy and usually everyone likes green beans. Even if you aren't a huge veggie lover, green beans usually make the cut.
The taste of green bean casserole, without all the heavy cream! This recipe does just that – it takes the flavors of most people's beloved green bean casserole, and puts it into a heathy and lightened up dish! Bonus is they are made on the stove, so that frees up your oven for things like roasted butternut squash with goat cheese for holiday feast! No matter what time of year it is, this dish is pretty stellar. It takes some time to fry the onions, but other than that, it comes together quickly. You can totally serve it alongside dinner any night of the week and the whole family will approve.
Ingredients:
4 pieces bacon
1/2 medium onion, sliced into rings (100 grams)
1 1/2 pounds green beans, washed and trimmed
2 cloves garlic, minced
2 cups mushrooms, sliced (2 heaping cups/100 grams)
3-4 tablespoons full fat coconut milk
salt and pepper, to taste