Vegan White Bean & Roasted Butternut Squash Soup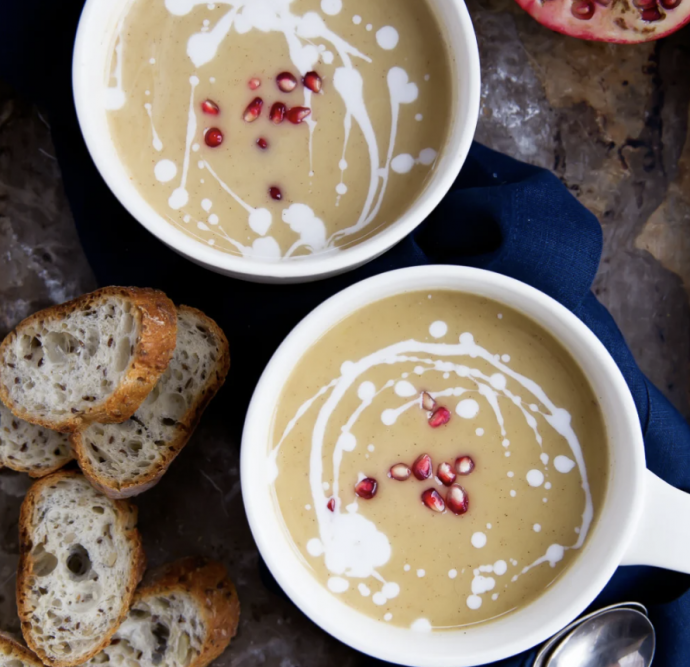 Creamy roasted butternut squash soup made without any dairy! This delicious and easy butternut squash soup recipe gets its creaminess from white beans and coconut milk. It's vegan and full of fiber and vitamin A for a cozy lunch or dinner.
Since we're talking squash, I'll admit that butternut squash is one of my favorites. The sweet, nutty taste is brought out even more when roasted too. I'm such a butternut squash fangirl, it's ridiculous. I've even roasted butternut squash then drizzled almond butter and maple syrup on top for a mid-afternoon snack. Turns out almond butter on butternut squash is so addicting that I ended up having it for breakfast too. YUM.
Ingredients:
1 butternut squash (about 2 pounds), halved vertically and seeded
1 tablespoon olive oil
1 yellow onion, diced
4 garlic cloves, minced
1 (15 oz) can white beans, rinsed and drained
2 1/2 cups vegetarian broth
1 1/2 cup full fat coconut milk, from the can (reserve extra liquid for drizzling on top)
1 teaspoon salt
Freshly ground black pepper
1/8 teaspoon nutmeg
1 teaspoon chopped fresh sage, if desired