Pomegranate & Pear Green Salad with Ginger Dressing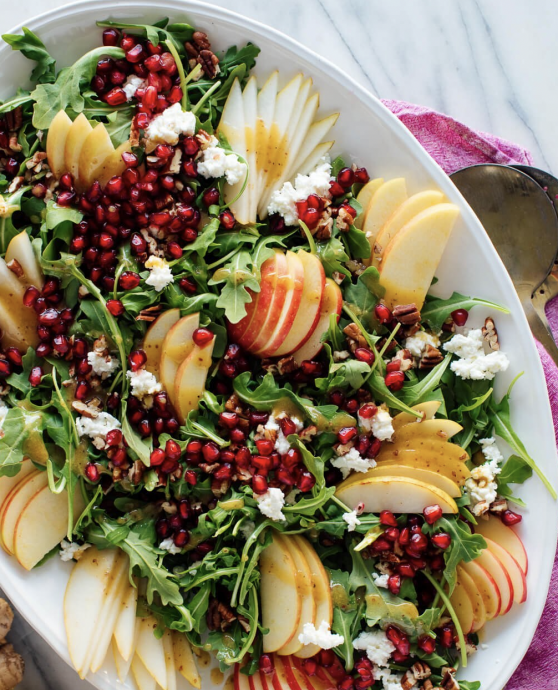 I can't take my eyes off this salad! The concept came to me as I was improvising a big green salad for Friendsgiving this year. Salads are often overlooked at the holidays, so I set out to make a festive red-and-green showstopper.
I knew I wanted to incorporate ruby-red pomegranate arils and fresh pear, since they're both so delicious this time of year. I added Honeycrisp apple, goat cheese and pecans for good measure.
To make the dressing taste festive and cut through the sweetness of the fruit, I added fresh ginger to my basic apple cider vinaigrette. Believe me, this salad tastes as good as it looks.
This salad might look fancy, but it's simple to put together. You'll want to pay extra attention to how you prepare the ingredients, so I've typed up some tips below. If you're craving some greens to get you through the holidays, or already working on your holiday menu, this salad is for you!
Ingredients:
Salad
½ cup raw pecans (halves or pieces)
5 ounces baby arugula
2 ounces (about ½ cup) goat cheese or feta, crumbled
1 large ripe Bartlett pear, thinly sliced
1 Honeycrisp or Gala apple, thinly sliced
Arils from 1 pomegranate
Ginger dressing
¼ cup extra-virgin olive oil
1 tablespoon apple cider vinegar, to taste
1 tablespoon Dijon mustard
1 tablespoon maple syrup or honey
1 teaspoon finely grated fresh ginger
¼ teaspoon fine sea salt
About 10 twists of freshly ground black pepper