Cornbread Stuffing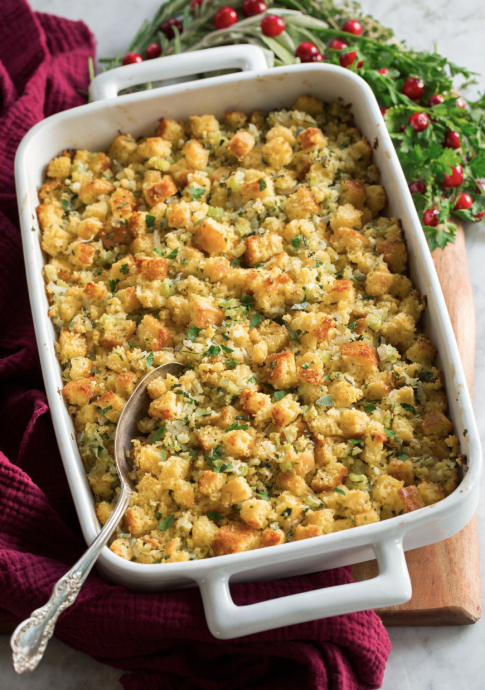 Homemade Cornbread Stuffing – Made with buttermilk cornbread, an assortment of fresh herbs, sautéed vegetables, and a buttery chicken broth base. It's one of the ultimate side dishes for a holiday celebration!
Once you try this recipe you'll likely want to make it over and over again. It's so good in fact it may take the place of your favorite bread based stuffing.
There's just something about that extra corn flavor here that really makes it shine. And no drying out bread cubes is necessary in this recipe.
Ingredients
Cornbread
1 1/4 cups (202g) cornmeal (fine ground)
3/4 cup (108g) all-purpose flour (scoop and level to measure)
1 1/2 tsp baking powder
1/2 tsp baking soda
1/2 tsp salt
1 1/3 cups buttermilk
2 large eggs
1 1/2 Tbsp honey
4 Tbsp unsalted butter, melted
Stuffing
1 full batch prepared cubed cornbread, from recipe above (10 cups)
6 Tbsp unsalted butter
2 cups finely diced yellow onion
1 1/2 cups thinly diced celery
1 Tbsp minced fresh garlic (3 cloves)
1/4 cup chopped fresh parsley
2 tsp roughly chopped fresh thyme
2 tsp chopped fresh rosemary
1 Tbsp chopped fresh sage
1 1/4 cups low-sodium chicken broth
1/2 cup whole milk
1 large egg
Salt and black pepper