Espresso Chocolate Chip Cake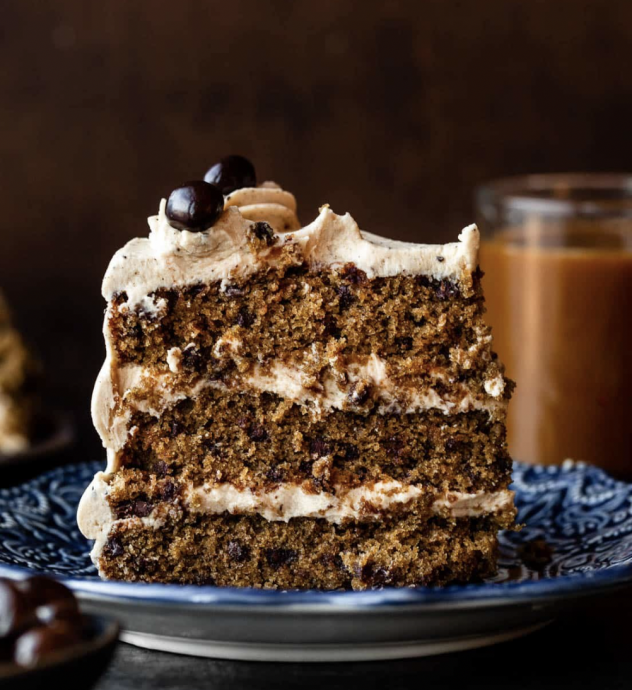 Pictured with 3 8-inch layers, this espresso chocolate chip cake combines a soft and moist cake flavored with espresso powder, strong coffee, plenty of chocolate chips, and ultra creamy espresso coffee buttercream. You can drink your coffee and eat it too with a towering slice of this homemade beauty!
Like many of my cake recipes, I adapted this cake batter from my basic white cake batter. The white cake is a very popular cake recipe, both a personal and reader favorite. Between its pristine crumb, fluffy texture, and stick-to-your-fork moisture, it's impossible not to love.
Ingredients:
2 and 2/3 cups (315g) cake flour (spoon & leveled)
2 teaspoons baking powder
1/2 teaspoon baking soda
1 teaspoon salt
3/4 cup (1.5 sticks; 170g) unsalted butter, softened to room temperature
5 teaspoons espresso powder
1 and 3/4 cups (350g) granulated sugar
4 large egg whites, at room temperature
1/2 cup (120g) sour cream, at room temperature
2 teaspoons pure vanilla extract
2/3 cup (160ml) whole milk, at room temperature
1/3 cup (80ml) brewed strong black coffee, at room temperature
1 and 1/4 cups (225g) mini chocolate chips (see note)
Coffee Buttercream
1 and 1/4 cups (2.5 sticks; 287g) unsalted butter, softened to room temperature
2 and 1/2 teaspoons espresso powder, plus more to taste
5 cups (560g) sifted confectioners' sugar (sift before measuring)
1/3 cup (80ml) heavy cream or whole milk
2 teaspoons pure vanilla extract
1/8 teaspoon salt
optional: chocolate covered espresso beans for garnish