Sausage Stuffing Recipe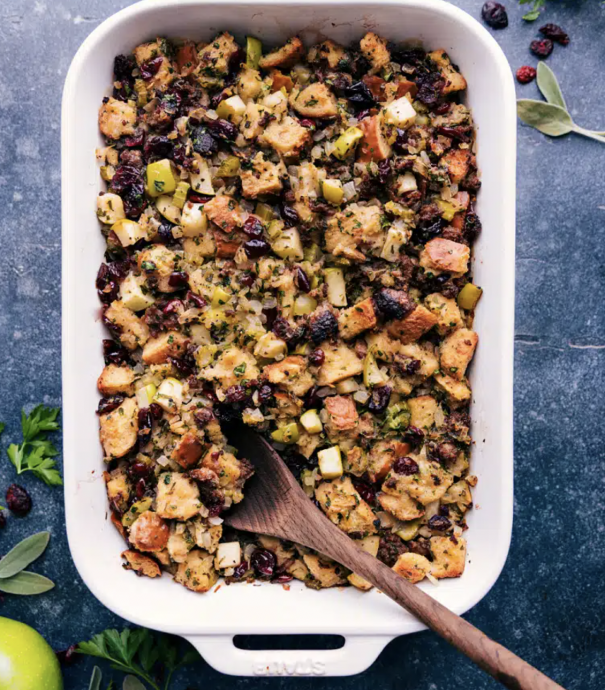 While a flavorful, moist slice of turkey drizzled in gravy is certainly an exciting part of Thanksgiving, it's all about the sides for me.
My favorite sides include Mashed Potatoes, some kind of retro fluff salad (like this Orange Fluff Salad), Baked Sweet Potatoes, a big Thanksgiving Salad, and most definitely some kind of stuffing/dressing.
We always rotate between my simple dressing recipe or cornbread dressing, but this year I thought I'd change things up a bit and add some sausage, cranberries, sage, and apples to my favorite stuffing.
The result? A deeply savory dressing with pops of sweetness, plenty of texture, just the right amount of softness, and ultimately a dish worthy of taking at least 1/3 of my Thanksgiving plate. I'm happy to report, I've made this several times–in the name of testing, of course!–and I could eat just this for meals at a time. Seriously, this is the best sausage stuffing recipe ever!
Ingredients:
10 cups day-old white bread Use good-quality bread cut into 1-inch wide by 1/2-inch thick cubes (we love sourdough best).
1 tablespoon olive oil
3/4 pound (12 oz.) Italian sausage
10 tablespoons unsalted butter
1-3/4 cups yellow onions, finely diced (~2 medium)
1 cup celery, finely diced (~3-4 stalks)
2 Granny Smith apples, diced
1/2 cup flat-leaf parsley, finely diced
2 tablespoons fresh sage, finely diced (or 1 tsp. dried rubbed sage)
Fine sea salt & pepper
2-1/2 cups chicken broth
2 large eggs
3/4 cup dried sweetened cranberries