Sour Cream Coffee Cake with Walnut Streusel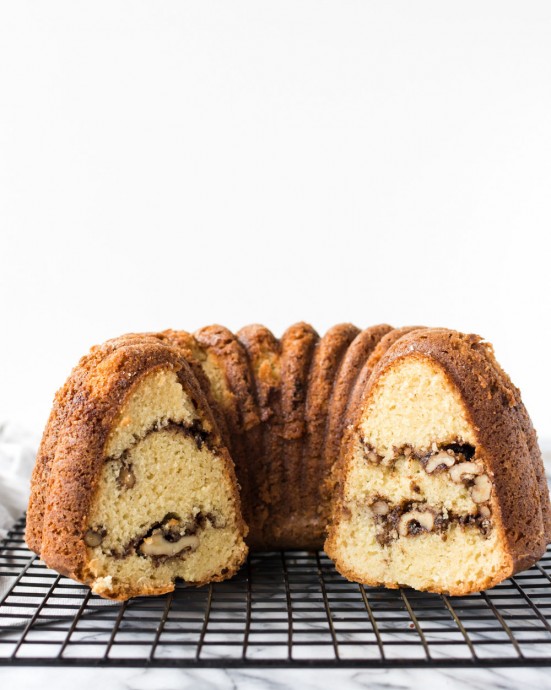 This Sour Cream Coffee Cake with a walnut streusel is easy to make, tender, and has double the streusel! It will definitely become your new favorite! It's a moist, dense, sweet cake that doesn't skimp on the warm, cinnamon-y filling. I also love the big chunks of walnuts— fight the urge to chop them up because the half pieces add so much wonderful crunch and texture. The best part of this cake: it keeps incredibly well after baking. We had a few pieces lingering at room temperature about a week after baking, and it was as moist as ever.
A few notes about the sour cream coffee cake recipe. What I love about this coffee cake is the abundance of sweet cinnamon filling in the layers, but that abundance can come with a few snags. I did have some issues with the cake sticking to the pan, which is not fun at all with a bundt pan. So a few suggestions to prevent that: oil and flour the pan really well, try to keep the streusel filling just inside from the edge of the pan so the sugar syrup doesn't leak out and cement itself to the pan. Try to keep a small border of batter alongside the edge. Don't leave the cake in the pan for longer than 15 minutes! Try to get it out before any leaking sugar has the chance to harden. Serve with tea or coffee! Enjoy!
Ingredients:
1 cup + 2 tbsp (132 g) walnut halves
3 tbsp (41 g) brown sugar, packed
2 tsp ground cinnamon
2 cups (395 g) granulated sugar
1 cup (2 sticks, 227 g) unsalted butter, room temperature
3 large eggs
3/4 cup + 3 tbsp (227 g) sour cream
1 1/2 tsp vanilla extract
2 1/3 cups (336 g) all-purpose flour
1/2 tsp baking soda
1 tsp sea salt