Chickpea Butternut Squash Curry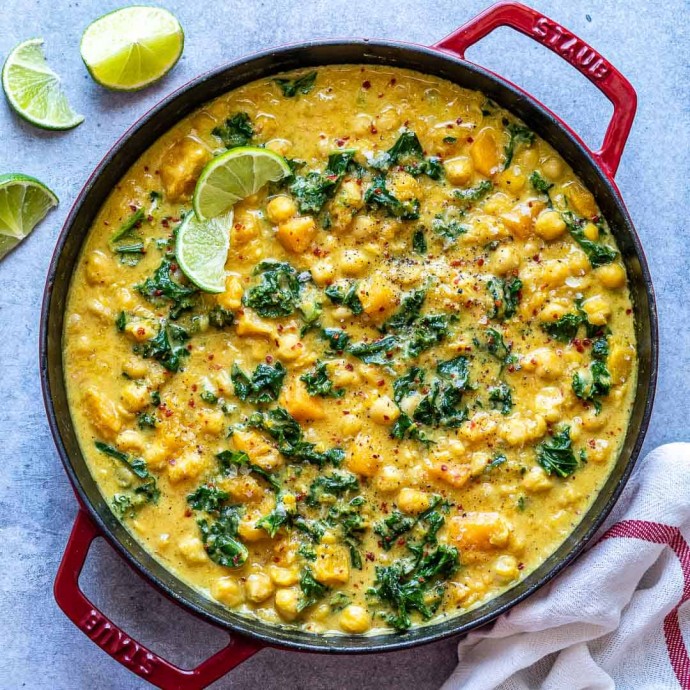 Vegan-friendly Chickpea Butternut Squash Curry is hearty, warming, and full of flavor! This yummy vegetarian curry is packed with wholesome goodies, such as turmeric, kale, and ginger, plus it's really simple to make!
Comforting, with warming spices such as ginger and turmeric, this creamy curry is as healthy as it is delicious. This easy to make vegetarian chickpea curry can be served over some basmati rice or quinoa. Want more protein, add some chicken as well.
You will love this dish, because it is warm and comforting. Loaded with chickpeas and spices, this is super filling and super satisfying. It is also a healthy and easy curry. Made with coconut milk and packed with kale, each hearty serving is less than 350 calories. Simple to prep, then toss the ingredients together in a pot and simmer for 30 mins, done! To make this vegan squash chickpea curry you'll need just simple ingredients, you might already have at home. Typically this is served with rice and naan. You can opt for brown rice to keep it healthier. Also, quinoa or couscous works great.
No chickpeas? No problem! You could go for white beans instead. When it comes to veggies, feel free to toss in what you have to hand, so many vegetables work in this recipe. Broccoli florets, chopped zucchini, and halved green beans all taste great in this curry.
Ingredients:
1 small onion chopped
1-2 garlic cloves peeled
1 thumb-sized piece of ginger peeled and chopped
1 red chill seeded and diced
1 Tbsp avocado or olive oil
1/2 tsp turmeric
1 tsp ground coriander
1 tsp ground cumin
1 tsp garam masala
1/2 of medium butternut squash peeled and diced (about
14.5 oz chickpeas one can, rinsed and drained
14 oz. full- fat coconut milk one can
1 cup vegetable stock
3 cups packed chopped kale
1 lime plus wedges to serve