Panzanella Salad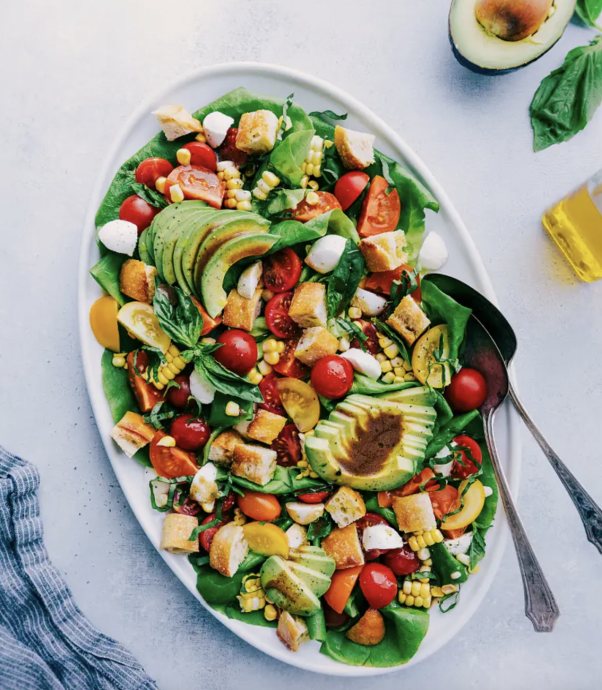 Check out our favorite Panzanella Salad with totally addictive garlic croutons, loads of fresh veggies, creamy mozzarella pearls, and a simple tangy balsamic vinaigrette.
If you've never heard of Panzanella salad, it's a chopped salad with bread and tomatoes added to it. It is often topped with olive oil and vinegar dressing and is very popular in central Italy.
While my recipe is not authentic by any means, it's hands down the best Panzanella salad I've ever had (and I order them as often as possible!). I mean, bread in a salad?! Why wouldn't you order that?!
It's also one of my husband's favorites, which doesn't surprise me, because he's obsessed with sourdough bread. If my husband hasn't made a fresh loaf (one of his hobbies!), I pick up a loaf of sourdough bread when I'm at the grocery store. He (with some help from me and the boys) can finish a loaf at record speeds.
On the rare occasion the sourdough isn't eaten as quickly, it's absolutely perfect for this salad.
Ingredients:
DRESSING
2 tablespoons (29g) balsamic vinegar
1 tablespoon (14g) red wine vinegar
1 tablespoon (15g) Dijon mustard
1 garlic clove, minced
1/4 cup (48g) olive oil
Fine sea salt and freshly cracked black pepper
CROUTONS
1 artisan sourdough baguette, torn into small cubes (~4 cups; 220g)
2 tablespoons olive oil
2 tablespoons unsalted butter, melted
1 teaspoon EACH: Italian seasoning, minced garlic
SALAD
3 cups (485g) cherry tomatoes, halved (or quartered) Note 1
1 cup (158g) mozzarella balls/pearls halved or quartered Note 2
1 fresh corn on the cob, corn cut off (~3/4 cup; 135g) Note 3
1 large avocado, sliced or chopped into bite-sized pieces
20 basil leaves, thinly sliced
Optional: 1 small head of Bibb or Romaine lettuce, ripped into small pieces
Optional 1 small lemon