Chocolate Sandwich Cookies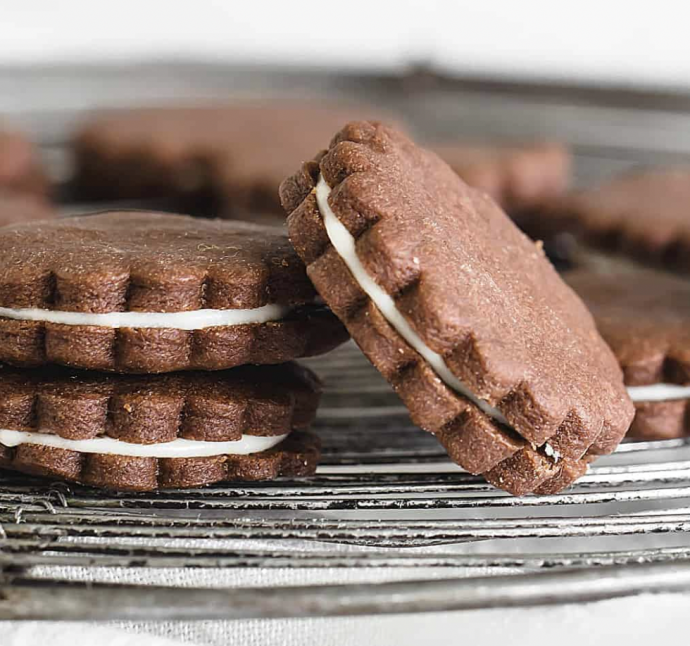 Made from the best chocolate pie crust, these cookies are filled with an almond-scented cream cheese filling. They are wonderfully simple to make, can be frozen, made in advance, and cut out any shape you want.
Like most great recipes, these are the result of leftover dough after making who knows what. I had a brunch coming up and decided to make use of it and made some cookies.
Turns out I also had cream cheese frosting, because I always do. So, leftover pie dough and leftover frosting resulted in these sandwich cookies. The frosting we all love is what I used to fill these sandwiches.
The truth is that I was trying to recreate a favorite cookie when I was growing up and decided to start with some leftover cream cheese frosting in the fridge after making the hummingbird cake.
A few drops of almond extract and boom! my smile came back as I bit into my childhood memories.
Other fillings can be chocolate ganache, peanut butter, or dulce de leche.
Ingredients:
For the cookies:
1 recipe for Chocolate Pie Crust
For the frosting:
2.5oz (70g) regular cream cheese, at room temperature
2 tablespoons (30g) unsalted butter, at room temperature
1 cup powdered sugar (you might need more)
¼ teaspoon pure almond extract