Velveeta Broccoli Rice Casserole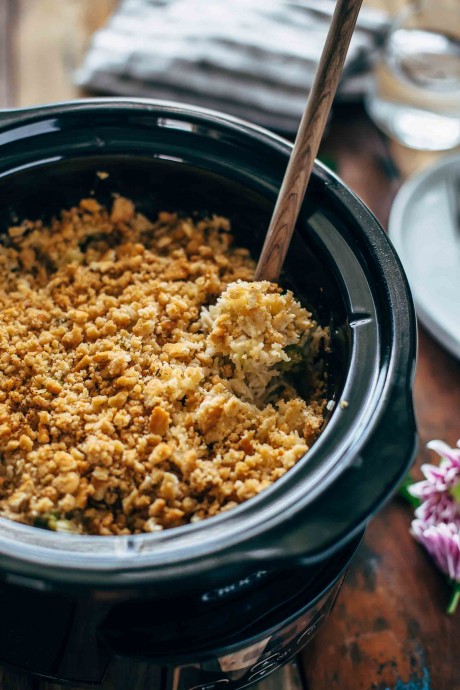 Broccoli Rice Casserole is a holiday classic and this Slow Cooker Velveeta Broccoli Rice Casserole is our go-to holiday side dish. Using a Crockpot is such an easy way to make cheesy broccoli and rice casserole. This Thanksgiving and Christmas favorite is easier than ever when made in a slow cooker!
This Slow Cooker Velveeta Broccoli Rice Casserole recipe is as easy as it can get. It is just as delicious as the traditional recipe, but so much better because making it is a breeze! I love broccoli cheese rice casseroles, and this one is deliciously cheesy. I definitely went back for more than one serving!
Make holiday cooking easy with this slow cooker recipe. This casserole needs to make an appearance this season, and a Crockpot will help you make it hassle-free!So simple, there's almost nothing to it! This Slow Cooker Broccoli and Rice Casserole recipe seems too good to be true, but it really is that easy. You can make a crushed cracker topping to add some extra texture into the mix too.
Ingredients:
1½ cup Minute Rice
¾ lb. Velveeta Cheese, cut into ½ inch cubes
14.4 ounces frozen broccoli chopped
1 teaspoon onion flakes or ¼ cup onion minced
1 can water chestnuts drained and diced, 8 oz.
10.5 ounces Cream of Mushroom Soup use canned or click for homemade recipe
1 can unsalted chicken broth OR beef broth, 10½ oz.
1 cup milk
¼ cup white wine opt.
½ teaspoon black pepper ground
Optional topping:
1 cup crushed Ritz crackers.
¼ cup butter melted